Home » Regions » North America » Northern Forests » Mixed Wood Shield » Northern Lakes and Forests » Grand Marais Lakeshore
Grand Marais Lakeshore
Page contents
↑About the Grand Marais Lakeshore
The
Grand Marais Lakeshore
is a region on the northern shore of Michigan's Upper Peninsula, bordering Lake Superior, and the lake's Whitefish Bay at its eastern end. It includes the stretch of coastline referred to as "Shipwreck Coast" due to its high concentration of shipwrecks.
The lakeshore in this region is a mix of steep, sandy terminal moraines, pitted outwash plains with kettle lakes and swampy, inter-ridge depressions, dry upland portions of outwash plains, and poorly-drained peatlands. The sandstone bedrock is exposed in the west, but buried beneath the surface throughout most of the rest of this region. Soils here are fairly heterogeneous, mostly well-drained to excessively-drained sands, with some sandy loams on moraines.
This region's climate is towards the cold end of a humid continental climate. The proximity to the lake cools the temperatures in summer and results in significant lake-effect snow. Ice cover on Lake Superior varies considerably from year to year, and winter lows can be much more extreme in years of greater ice cover. However, there is always significant ice close to shore, and Whitefish Bay also always freezes.
This area originally supported a mix of forest types, but mostly conifers, and hardwoods mostly limited to sites that were both well-drained and protected from fire. Dunes and dry areas of lake plain supported fire-prone communities of
jack pine (Pinus banksiana)
,
eastern white pine (Pinus strobus)
, and
red pine (Pinus resinosa)
. Sandy moraines, on sites protected from fire, supported Northern Hardwood forest with
American beech (Fagus grandifolia)
,
sugar maple (Acer saccharum)
,
eastern hemlock (Tsuga canadensis)
, and white pine. Poorly-drained sites, including ones with bedrock near the surface, supported swamps of
black spruce (Picea mariana)
,
tamarack (Larix laricina)
, and
northern white-cedar (Thuja occidentalis)
.
The primary land use in this region has been commercial timber production. Logging has significantly altered the forest composition, in large part because of widespread fires that followed logging; jack pine has increased, whereas red pine and white pine have tended to regenerate poorly following logging, and have decreased in numbers. Northern hardwood forests have been greatly reduced in extent; after logging, a sparse forest of mostly
black cherry (Prunus serotina)
regenerated, but these areas were mostly replanted with red pine and jack pine. Some northern hardwood forests remain, mostly on well-drained sands and sandy loams, and are mixed with more
balsam fir (Abies balsamea)
than was originally here.
This region is sparsely populated, with the largest amount of development around Munising. Road construction and the construction of wetlands has somewhat altered wetlands as well.
This region is bordered to the south by the more heterogeneous
Seney-Tahquamenon Sand Plain
. In one area where the Upper Peninsula is narrow, it directly borders the
Menominee-Drummond Lakeshore
to the south, a region with more diverse soil types owing to its limestone bedrock. At the far east of this region, there is a border with the
Rudyard Clay Plain
, characterized by its clay soils. At the western end of this region, there is a border along the lake with the
Michigamme Highland
, and inland, to the southwest, with the
Menominee Drumlins and Ground Moraine
.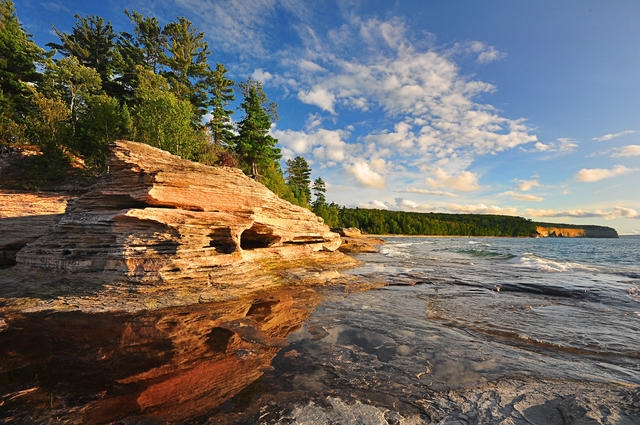 This striking coastline shows sandstone cliffs at Pictured Rocks National Lakeshore. Sandstone outcroppings like this are most common towards the west of the Grand Marais Lakeshore; in the distance is a sandier coastline more typical of this region. Photo © Marquette, Michigan Weather Service Forecast Office,
CC BY 2.0
,
Source
.
Plant Lists & In-Region Search
We do not yet have data to generate plant lists for a region as fine-tuned as this one. However you can move up to the broader Northern Lakes and Forests and generate lists for that region: native plants or all plants. Or search that region's plants here:
↑References
1. Omernik, J.M., Bryce, S.A. "Michigan: Level III and IV Ecoregion Descriptions / Mapping Issues", US EPA (2007) Web.
2. Albert, Dennis A. "Regional landscape ecosystems of Michigan, Minnesota, and Wisconsin: a working map and classification.", General Technical Report NC-178, U.S. Department of Agriculture, Forest Service, North Central Forest Experiment Station, St. Paul, MN (1995) Web.