USDA State-Level Range Map for Rudbeckia triloba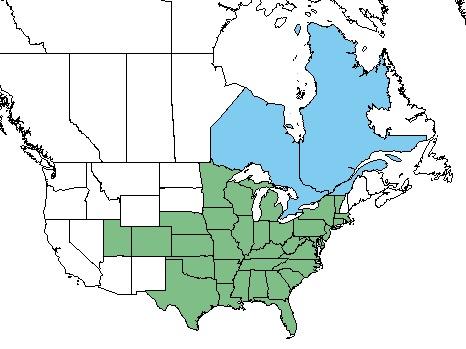 This photo shows the state-level range map published on the USDA Plants Profile for Brown-eyed susan (Rudbecka triloba). The green color signifies native status, whereas blue signifies introduced (a more neutral term often used interchangeably with "invasive").

The odd disparity of this plant being considered native in all the U.S. states in which it occurs, yet introduced in Canada, demonstrates that an arbitrary judgment call has been made on the basis of whether or not the plant is native to a particular country. In this case, the species is native to the U.S. but introduced in Canada. But it is not actually native to all the states pictured.

These inconsistencies can have ecological consequences when they drive people's choices to plant, sell, or remove plants in a particular region. We explore these issues in greater detail in our blog post on using ecoregions over political boundaries, in which this image is featured.
Photographer & Copyright
© USDA