Home
»
Plants
»
Asclepias curassavica
Tropical Milkweed (Asclepias curassavica)
Also known as bloodflower.
Page contents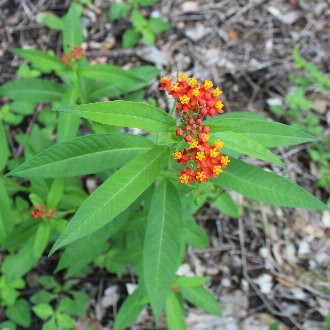 ↑Summary
A short-lived, showy milkweed native to the tropical Americas, and widely planted in gardens; in North America it can harm monarch butterfly populations, and has some potential to become invasive.
↑Similar Plants
↑Habitat
The habitat preferences of this species outside its native range are not well-known, but it seems able to survive in a wide variety of habitats, including wetlands, grasslands, riparian areas, pastureland, cropland, clearings in rainforests, steep valleys, and roadsides. It seems to favor open, wet areas with a history of recent disturbance that removed competing vegetation.

In tropical areas it grows as a weed in a variety of types of cropland.

Its expansion may be limited in some areas by its ability to attract pollinators.
↑Life Cycle
This species grows opportunistically as an annual or short-lived perennial. It is most often an annual.
↑Uses
This plant is frequently grown in gardens, due to its showy flowers. Far north of its native range, it is grown as an annual.

Outside of its native range, however, it is best to avoid planting it, and to avoid shopping at any nursery selling this plant, as it has the potential to become invasive; it has been introduced on many different continents. There is evidence that in North America, its presence in gardens is harmful to monarch butterfly populations, as its later flower time encourages monarchs to stay locally rather than migrate, which increases the risk of death by parasites. There are numerous native milkweed species; a locally-native one is always a better choice if you are outside the native range of this species.
↑Links & External Resources
• Asclepias curassavica (bloodflower) | USDA PLANTS Database (About This Site)
• Asclepias curassavica (Blood Flower) | Missouri Botanical Garden Plant Finder (About This Site)
• Asclepias curassavica (bloodflower) | CABI Invasive Species Compendium (About This Site)
• Asclepias curassavica | Biota of North America Project (BONAP) (About This Site)
↑Photo gallery