Home
»
Plants
»
Quercus ×beadlei
Beadle Oak (Quercus ×beadlei)
Page contents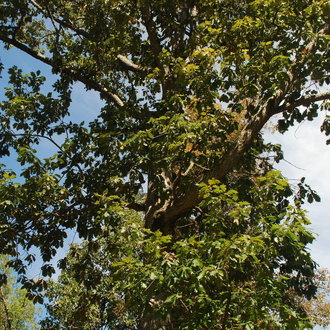 ↑Summary
An uncommon, naturally-occurring hybrid of white oak and swamp chestnut oak.
↑Similar Plants
↑Habitat
This species is uncommon enough that it is difficult to assess its habitat preferences. However it has occurred in as disparate locations as four counties in the Mid-Atlantic, three in southern Illinois, and one each in southeastern Missouri, east Texas, coastal North Carolina, and the Florida panhandle.

It is usually found on well-drained sites in bottomlands, or sheltered coves, on sites that are consistently moist, but flood less often than sites where Quercus michauxii occurs.
↑Uses
Occasionally used in landscaping, where it is valued for faster growth than Quercus alba, large acorn production, and tolerance of a wide range of conditions.
↑Links & External Resources
• Quercus ×beadlei (Beadle oak) | USDA PLANTS Database (About This Site)
↑Photo gallery