Home
»
Plants
»
Claytonia ogilviensis
Ogilvie Mountain Springbeauty (Claytonia ogilviensis
McNeill

)

Page contents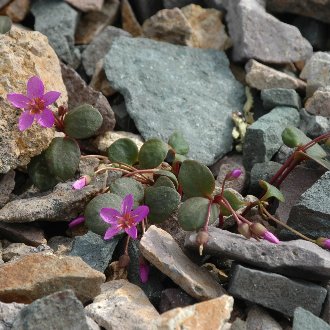 ↑Summary
A rare perennial restricted to dry, barren, rocky slopes in mountains in the Yukon Territory, Canada.
This map is based on our research. We have checked its accuracy to Level 3 ecoregions. Although this plant occurs somewhere in each of these regions, it may only occur in a small part of some or all of them.
Although this species is native to multiple ecoregions that extend into Alaska, and has been found near the border, it has yet to be recorded occurring on the Alaska side of the border.
↑Habitat
Found on exposed rock and calcareous talus slopes of the Yukon Territory, Canada, in the Ogilvie Mountains, Dawson Range, and Nutzotin Mountains. Found between 1,200 and 1,860m in elevation, with most populations around 1,500m. Found in dry conditions, usually but not exclusively on south to southeast slope aspects. Its habitats are usually barren and devoid of most vegetation.

This species has a sparse distribution but its habitats are not particularly threatened. It is considered vulnerable simply due to its small numbers and limited distribution.
↑Life Cycle
This species is a perennial, flowering from May through July. It is thought to be long-lived but this is speculative, due to its large tubers relative to the size of the plant.
↑Related Plants
There are numerous other Claytonia species in North America. We found conflicting claims of relationships of this species to others; one source claimed it was probably closest-related to great basin springbeauty (Claytonia umbellata). Another, alternatively proposed its closest relative to either be western springbeauty (Claytonia rosea) or the Virginia springbeauty (Claytonia virginica) complex, which also includes tuberous springbeauty (Claytonia tuberosa), then followed by C. rosea, and placed it as not particularly closely related to C. umbellata. We have not yet investigated these competing claims.
↑Links & External Resources
• Claytonia ogilviensis (Ogilvie Mountain springbeauty) | USDA PLANTS Database (About This Site)
• Ogilvie Mountains Spring Beauty | iNaturalist (About This Site)
• Claytonia ogilviensis | Biota of North America Project (BONAP) (About This Site)
• Claytonia ogilviensis | NatureServe Explorer (About This Site)
• Claytonia ogilviensis | Flora of North America (About This Site)
↑Photo gallery