Home
»
Plants
»
Pilosella aurantiaca
Fox-and-Cubs (Pilosella aurantiaca
(L.) F.W.Schultz & Sch.Bip.

)

Also known as orange hawkweed, devil's paintbrush, grim-the-collier; also classified as Hieracium aurantiacum L..

Page contents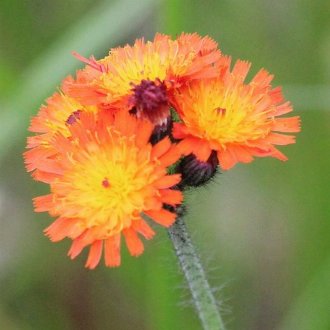 ↑Summary
A rhizomatous or stoloniferous perennial with striking orange flowers, introduced in North America and considered invasive in some regions.
| | |
| --- | --- |
| Legend | Color |
| Introduced | |
| Introduced or Not Present | |
This tentative map is based on our own research. It may have limited data on Canada and/or Mexico, and there is some subjectivity in our assignment of plants as introduced vs. expanded. Read more in this blog post.
↑Habitat
In parts of North America that are naturally forested, this species is mostly found in anthropogenic habitats, including roadsides, pastures, meadows, and fields, especially recently abandoned farmland.

However, it can also survive in intact wild ecosystems, including mountain meadows, bogs, northern whitecedar swamps, and occasionally in open woods. This species is more likely to be found in intact wild ecosystems in the north and west of its established range.

This species favors low-nutrient, acidic, and recently-disturbed soils, and prefers soils that are sandy or gravely in texture. It can be found on dry and moist sites alike. Overall, the absence of competing vegetation is more important than any specific soil conditions.

In North America, this species has established in a warmer, wetter climate range than it occurs in its native range.

This species is usually limited to early-successional stages of recently disturbed sites, and tends to be eliminated in the absence of continued disturbance on most sites; however there are specific instances of it persisting long-term in later successional stages of some plant communities.
↑Uses
This species was once widely planted in gardens in North America, where it was valued for its bold reddish-orange flowers, but it has mostly fallen out of use due to its invasive nature.
↑Links & External Resources
• Orange Hawkweed | Fire Effects Information System (FEIS) (About This Site)
• Hieracium aurantiacum (orange hawkweed) | USDA PLANTS Database (About This Site)
• Pilosella aurantiaca | Go Botany (About This Site)
• Fox-and-Cubs | iNaturalist (About This Site)
• Hieracium aurantiacum | Biota of North America Project (BONAP) (About This Site)
• Pilosella aurantiaca (L.) F.W.Schultz & Sch.Bip. | Plants of the World Online (POWO) (About This Site)
• Pilosella aurantiaca (orange hawkweed) | CABI Invasive Species Compendium (About This Site)
↑Photo gallery