Home
»
Plants
»
Picea orientalis
Caucasian Spruce (Picea orientalis
(L.) Peterm.

)

Also known as oriental spruce.

Page contents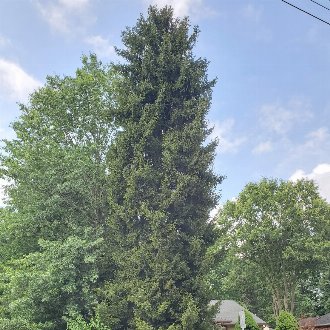 ↑Summary
A large evergreen tree native to the Caucusus mountains, occasionally used in landscaping in North America.
↑Similar Plants
↑Habitat
The potential habitat preferences of this species in North America are not well-known. It may not have much potential to survive here. However, it is also possible that its lack of establishment more reflects the fact that it has not been widely planted, or has not been planted near suitable habitat. The climate in North America tends to be considerably more extreme than in its native range, so its survival here may be limited both by summer heat and winter cold, especially wind. Its native range also has strongly seasonal rainfall centering around late spring and early summer, contrasting with most of North America where rainfall is either more evenly distributed throughout the year, or follows a different pattern of seasonality.

In its native range, this species is found mostly in sheltered ravines in mountainous terrain at elevations of about 1,000-6,900ft (300-2,100m). It tolerates nutrient-poor rocky soils, and requires good drainage, but prefers moist conditions. It is shade-tolerant as reflected by its presence together with beech, a highly shade-tolerant species, in its native habitat, as well as by its retaining of lower branches even as it matures.
↑Uses
This species is occasionally used in landscaping, where it is valued for its narrower spread than the more widely-planted Norway spruce (Picea abies).

Even though there are no signs of it being invasive, there are ample choices of native evergreen trees, and at best this species, when planted, takes up space that could be occupied by locally-native evergreen trees.
↑Related Plants
This species is not closely related to any of the North American spruces; its closest relatives are all native to Europe through East Asia and none of them are found in the wild in North America. Among ones found here, its closest relative is the Norway spruce (Picea abies).
↑Notes
We prefer the common name "Caucasian spruce" as it more accurately communicates the native range of this species, in the Caucasus Mountains. The widely-used name "oriental spruce" is misleading because most species bearing the label "oriental" are native to East Asia. The term "oriental" can refer to anything considered "east" of Europe, and as such encompassed an extremely broad region.
↑Links & External Resources
• Picea orientalis (L.) Peterm. | Plants of the World Online (POWO) (About This Site)
↑Photo gallery