Home » Regions » North America » Tropical Wet Forests
Tropical Wet Forests
Page contents
To check where a specific point lies, you can look it up in our Ecoregion Locator.
↑Map Legend & Subregion List
This list will help you navigate the regions in case you have problems with viewing or clicking the interactive map above.
† Status: ✓ = Complete ○ = Needs Image … = Incomplete ∅ = Stub Only
↑Progress
| | | |
| --- | --- | --- |
| Partially Complete | With Images | Complete w/ Images |
Get involved! You can help our ecoregion articles progress faster. Help us find photos of these regions. Contact us if you have any additions or corrections to any of these articles. You can also donate to support our ongoing work.
↑About the Tropical Wet Forests
The Tropical Wet Forests ecoregion of North America includes a small portion of the southern tip of Florida, but most of this region is located in Mexico. As one progresses into the Caribbean and South America, this biome becomes more dominant.
This region is characterized by warm year-round temperatures, with only a weak seasonality of temperature towards the north of its range, and relatively wet conditions year-round, although there can be some seasonality of precipitation.
Much of this region is covered by evergreen forests, with some semi-deciduous forests.
Globally, these regions are one of the most biodiverse regions, and this region within North America is no exception. These regions are characterized by a large portion of epiphytes, plants that grow on the surface of other plants.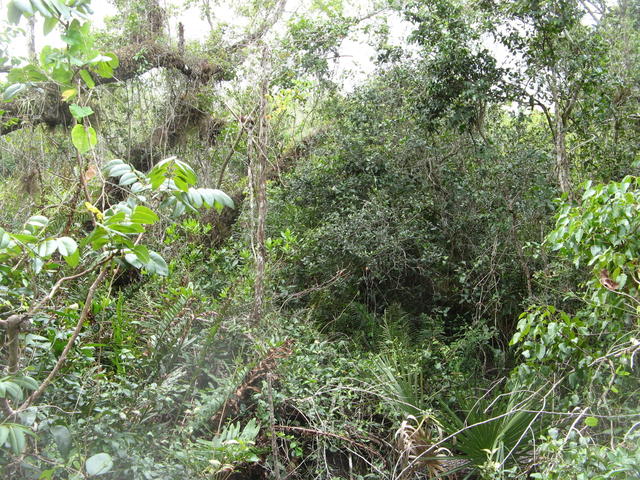 The often-isolated hardwood hammocks in the Everglades, FL, are one of the few places where a tropical wet forest occurs in the continental U.S. These forests exhibit a mild seasonality of rainfall and temperature, with slightly cooler and significantly drier winters. But these small areas still show many of the characteristic features of tropical rainforests, with abundant epiphytes and most of the nutrients stored in the live biomass rather than the soil. Photo © Alex Zorach,
CC BY-SA 4.0