Home » Regions » North America » Hudson Plain
Hudson Plain
Page contents
To check where a specific point lies, you can look it up in our Ecoregion Locator.
↑Map Legend & Subregion List
This list will help you navigate the regions in case you have problems with viewing or clicking the interactive map above.
† Status: ✓ = Complete ○ = Needs Image … = Incomplete ∅ = Stub Only
↑Progress
| | | |
| --- | --- | --- |
| Partially Complete | With Images | Complete w/ Images |
Get involved! You can help our ecoregion articles progress faster. Help us find photos of these regions. Contact us if you have any additions or corrections to any of these articles. You can also donate to support our ongoing work.
↑About the Hudson Plain
The Hudson plain or Hudson plains is a subarctic ecoregion located in Canada, south of the Hudson bay, and created by the proximity to this body of water. It contains the largest contiguous wetland in the world. The climate is cold, and humid relative to other regions of similar temperatures, and the geography is flat.
Vegetation is sparser than in the
Taiga
regions to the east and west and also much sparser than the
Northern Forests
which lie to the south. The area ranges from bogs in the north to open forest in the south. The climate is slightly more moderate than in the bordering Taiga region, but winters are still very cold. The northernmost part of this region has permafrost like in the tundra, but it becomes sporadic as one moves southward.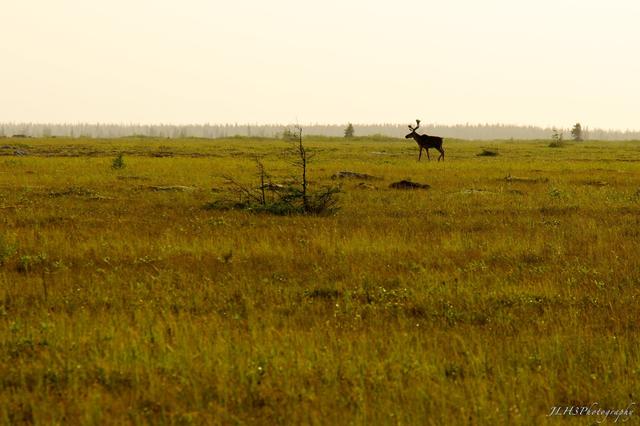 A Bull Caribou in Polar Bear Provincial Park, a large expanse along the shores of the Hudson Bay. This open scenery with only sparse trees is typical of the northernmost parts of the Hudson Plain. Photo © J. H.,
CC BY-ND 2.0