Home » Regions » North America » Eastern Temperate Forests » Central USA Plains » Huron/Erie Lake Plains » Oak Openings
Oak Openings
Page contents
↑About the Oak Openings
The
Oak Openings
are a set of scattered low-lying sand dunes entirely contained within the
Huron/Erie Lake Plains
, located within southeast Michigan and northwest Ohio; the sections in Michigan consist of five smaller, more irregular-shaped pieces, whereas in Ohio there are two larger regions. The difference in shape between these states does not reflect any ecological differences but rather is an artifact of different methodologies for creating the boundaries.
This region consists of relic beach ridges and sand dunes that once lined the shores of the glacial lake that extended out considerably farther than Lake Erie's current boundaries. Local relief ranges from 25-75 feet. There is some clayey glacial till and finer lake sediments, and all this material is underlain by deep bedrock of carbonates and shale. The soils are mostly sandy and well-drained, but the mix of other materials produces loamy soils at a few scattered locations. The climate is humid and continental, with a frost-free growing season of 160-175 days, and precipitation roughly equally distributed year-round.
The vegetation in this area is markedly different from that of the surroundings, due to the well-drained soils limiting the moisture available to plants. This region originally was covered with mixed oak forests and oak savanna on the driest ridges, with wet prairies on poorly-drained depressions.
This area has been utilized for residential development, farming, and sand quarries. However, its sandy soils are poorly-suited for agriculture, and as such it is much less intensively farmed than the surroundings. This area was formerly more intensively farmed but much of it has been abandoned and reforested. This region thus has much greater intact forest cover than the surrounding region. Current forest cover consists of dry oak-hickory woodlands, red maple and black ash in swamps, black oak savanna, and pin oak swamp forest. There are some areas of protected land, much more than in the surrounding region.
This region is entirely contained within the
Huron/Erie Lake Plains
.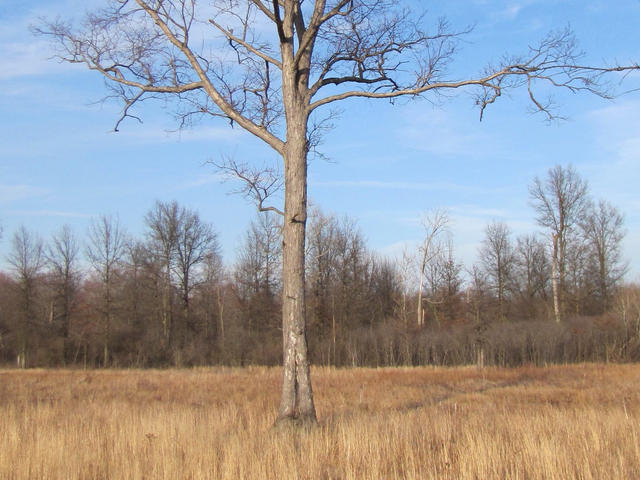 An isolated tree in a prairie at Irwin Prairie State Nature Preserve, Ohio. This is a crop of a photo by aecole2010 (Flickr). This is in one of the Oak Openings; these ecosystems have been mostly preserved, in large part because their soil is unsuitable for agriculture. Photo © aecole2010 (Flickr),
CC BY 2.0
,
Source
.
Plant Lists & In-Region Search
We do not yet have data to generate plant lists for a region as fine-tuned as this one. However you can move up to the broader Huron/Erie Lake Plains and generate lists for that region: native plants or all plants. Or search that region's plants here:
↑References
1. Woods, A.J, Omernik, J.M., Brockman, C.S., Gerber, T.D., Hosteter, W.D., Azevedo, S.H. "Ecoregions of Indiana and Ohio (Poster)", US Geological Survey (1998) Web.
2. Omernik, J.M., Bryce, S.A. "Michigan: Level III and IV Ecoregion Descriptions / Mapping Issues", US EPA (2007) Web.