Home » Regions » North America » Eastern Temperate Forests » Southeastern USA Plains » Southeastern Plains » Tifton Upland
Tifton Upland
Page contents
↑About the Tifton Upland
The
Tifton Upland
is a region in southwestern Georgia, extending slightly into the Florida panhandle.
This region consists of dissected, irregular plains, markedly hillier than regions both to the east and west. The west of the region also has some bluffs and ravines. The region is underlain by sand and clay decomposition residuum derived from a mix of sand, clay, and gravel. Soils tend to be well-drained loams, brown in color, iron-rich but leached of other mineral nutrients. Streams tend to be low to moderate gradient, with sandy bottoms.
The climate is humid and subtropical, with a weak, bimodal precipitation that is unusual for North America, with wet seasons peaking in July and January, and drier seasons peaking in May and October. Although the climate is mild on average, there is considerable variability, with the area occasionally experiencing severe cold or heatwaves, and more regularly experiencing light frost in winter.
This region originally supported mostly southern mixed forest. However, the ravines in the west of the region had cooler microclimates supporting both some more northerly species, and some rare species.
Currently, this region is a mosaic of cropland, pastureland, and forest. The region produces corn, cotton, peanuts, pigs, cabbage, melons, and tobacco. The region is relatively populous for a mostly-rural region, with the largest city being Valdosta, GA, followed by the smaller cities of Tifton, GA, Thomasville, GA, and Moultrie, GA; there are also numerous towns throughout.
This region is bordered to the northwest by the
Dougherty Plain
, a region underlain by limestone, to the northeast by the
Atlantic Southern Loam Plains
, to the east by the
Okefenokee Plains
, to the south by the
Tallahasee Hills/Valdosta Limesink
, and in a small border at its southwestern end, to the south by the
Southern Pine Plains and Hills
. With the exception of the Tallahasee Hills/Valdosta Limesink, all of these borders are characterized by lower, flatter topography in the surrounding regions.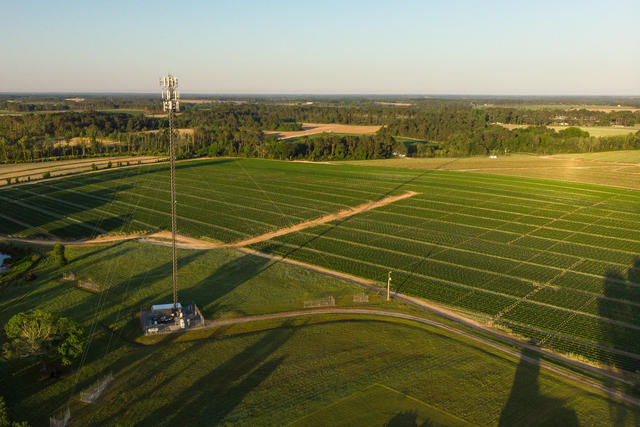 This photo taken near Ty Ty, GA, shows a mix of land use typical of the Tifton Upland, with significant cropland but also some forest. Photo © USDA,
Public Domain
,
Source
.
Plant Lists & In-Region Search
We do not yet have data to generate plant lists for a region as fine-tuned as this one. However you can move up to the broader Southeastern Plains and generate lists for that region: native plants or all plants. Or search that region's plants here: