Home
»
Plants
»
Sanicula trifoliata
Largefruit Blacksnakeroot (Sanicula trifoliata
E.P. Bicknell

)

Also known as beaked snakeroot, large-fruited sanicle.

Page contents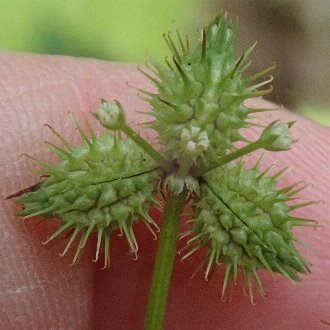 ↑Summary
A biennial of rich, mature, deciduous forests, native to Eastern North America.
| | |
| --- | --- |
| Legend | Color |
| Native | |
| Native or Not Present | |
This tentative map is based on our own research. It may have limited data on Canada and/or Mexico, and there is some subjectivity in our assignment of plants as introduced vs. expanded. Read more in this blog post.
↑Similar Plants
↑Habitat
Found in rich, moist, mature deciduous forests, both on uplands and in floodplains. In parts of its range, including Ohio and parts of Canada, it is more common on northeast-facing slopes.

Unlike other Sanicula sp., which can be found in earlier successional stages of forests and tolerate varying degrees of disturbance, this species is restricted to mature forests, and is most common in old-growth forests, of which few remain.

This is the rarest Sanicula species throughout most of its range, reflecting humans destroying most of its habitat and leaving most of the remaining forests fragmented and/or in earlier successional stages. It is particularly sensitive to disturbance, and can be threatened by a variety of human activities including selective logging and ATV use, and also by invasive species.

Where this species occurs, it usually is found as only a few scattered plants and does not tend to form large colonies as some of the other Sanicula sp. do.
↑Life Cycle
This species is a facultative biennial, usually growing as a biennial but showing some flexibility in its life cycle. It is one of the few biennials in the mature forest habitat it inhabits, where most herbaceous plants are perennials.
↑Links & External Resources
• Sanicula trifoliata (largefruit blacksnakeroot) | USDA PLANTS Database (About This Site)
• Sanicula trifoliata | Go Botany (About This Site)
• Large-Fruited Sanicle | iNaturalist (About This Site)
• Sanicula trifoliata | Biota of North America Project (BONAP) (About This Site)
• Sanicula trifoliata | NatureServe Explorer (About This Site)
• Large-fruited Blacksnakeroot | Maryland Biodiversity Project (About This Site)
↑Photo gallery