Home
»
Plants
»
Eutrochium steelei
Appalachian Joe-Pye Weed (Eutrochium steelei
(E.E. Lamont) E.E. Lamont

)

Also known as Steele's eupatorium; also classified as Eupatorium steelei E.E.Lamont, Eupatoriadelphus steelei (E.E.Lamont) G.J.Schmidt & E.E.Schill..

Page contents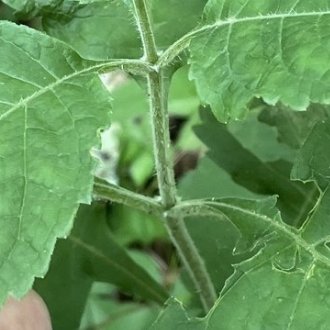 ↑Summary
The least-common species of Joe-Pye, restricted to a small range in the southern Appalachians.
| | |
| --- | --- |
| Legend | Color |
| Native | |
| Native or Not Present | |
This map is based on our research. We have checked its accuracy to Level 3 ecoregions. Although this plant occurs somewhere in each of these regions, it may only occur in a small part of some or all of them.
This map was constructed from BONAP's range map, while also checking reports on iNaturalist. It is accurate to Level 3 regions, but note that this plant is only native to a narrow region of the southern Appalachians, and is thus not found in the northern parts north the southernmost parts of these regions.
↑Description & Identification
This species most closely resembles Eutrochium purpureum, but can be distinguished by having consistently pubescent stem (not merely in the inflorescence) and more sharply-serrate leaf margins.
↑Similar Plants
↑Habitat
Found in mesic to dry-mesic conditions in northern hardwood forests in the southern Appalachians, where it is uncommon overall, but can be locally common. These forests are found at higher elevations, often in sheltered coves or on north-facing slopes. Within these woods, this plant is usually found in openings or gaps, often on rocky soils. Adapts somewhat to anthropogenic habitats within its range, including gravely embankments and roadbeds. Rarely it can be found in dry conditions.

This species inhabits a narrow range of the Southern Appalachians, crossing the Blue Ridge, Ridge and Valley, and Appalachian Plateau ecoregions. All of these regions extend far beyond the range of this species, and it is not entirely clear what restricts this species' range. It is found only in a section of these ecoregions, from extreme northeastern GA, through eastern TN and western NC, into southeastern KY and southwestern VA, and is absent from areas farther northeast or southwest.
↑Notes
Although the name Steele's Eupatorium is more widespread, we chose to use the alternate name Appalachian Joe-Pye Weed because it is more descriptive, and less misleading, as this species and other Joe-Pye weeds have been reclassified out of the Eupatorium genus, into Eutrochium.
↑Links & External Resources
• Eutrochium steelei (Steele's eupatorium) | USDA PLANTS Database (About This Site)
• Eutrochium steelei | Biota of North America Project (BONAP) (About This Site)
• Eupatorium steelei | NatureServe Explorer (About This Site)
• Eutrochium steelei | Flora of North America (About This Site)
↑Photo gallery