Home
»
Plants
»
Eutrochium dubium
Coastal Plain Joe Pye Weed (Eutrochium dubium)
Also classified as Eupatoriadelphus dubius, Eupatorium dubium.
Page contents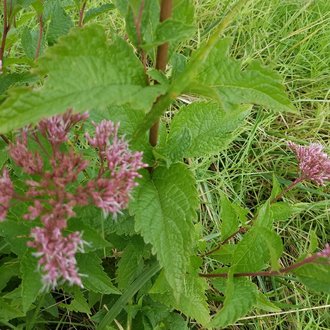 ↑Summary
A perennial of moist, sandy, acidic soils native to the coastal plain from New England south through South Carolina.
| | |
| --- | --- |
| Legend | Color |
| Native | |
| Native or Not Present | |
| Native or Introduced or Not Present | |
This tentative map is based on our own research. It may have limited data on Canada and/or Mexico, and there is some subjectivity in our assignment of plants as introduced vs. expanded. Read more in this blog post.
↑Description & Identification
E. dubium shares certain characteristics in common with other Eutrochium species, including being a normally unbranched perennial with multiple stems from a short-rhizomatous rootstock, having whorled or rarely opposite leaves, and a pinkish-to-purple inflorescence.

E. dubium is distinguished from other Eutrochium species primarily by its triple-veined leaves and smaller max height; other features can be used to distinguish between other, specific species.
↑Similar Plants
↑Habitat
Found on moist, acidic soils, usually in sandy soil but sometimes in other soil types. Can tolerate soils with some gravel and clay. Habitats include bogs, marshes, swales, sunnier spots in swamps, and low-lying streamsides and river banks in the coastal plain.

Tolerates some salinity and drought.
↑Uses
Widely used as an ornamental plant in gardens and landscaping, where it is valued for its tolerance of wet and poorly-drained conditions. Several cultivars exist, the best-known of which are 'Little Joe' and 'Baby Joe'. These and most other cultivars have been selected to have a shorter maximum height even in rich soils, and better tolerance of typical garden conditions, including greater drought tolerance.
↑Links & External Resources
• Eutrochium dubium (Coastal Plain Joe Pye Weed) | USDA PLANTS Database (About This Site)
• Eutrochium dubium | Go Botany (About This Site)
• Coastal Plain Joe-Pye Weed | iNaturalist (About This Site)
• Eutrochium dubium (Coastal Plain Joe Pye Weed) | Missouri Botanical Garden Plant Finder (About This Site)
• Eutrochium dubium | Biota of North America Project (BONAP) (About This Site)
↑Photo gallery