Home
»
Plants
»
Chamaecrista nictitans
Sensitive Partridge Pea (Chamaecrista nictitans
(L.) Moench

)

Page contents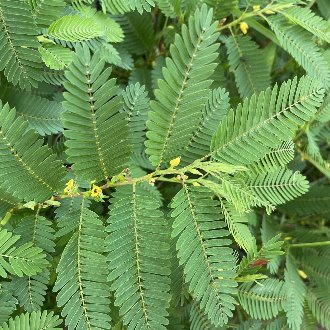 ↑Summary
An annual of nutrient-poor habitats, native from the southeastern U.S. south through much of South America, often with a mat-forming habit.
| | |
| --- | --- |
| Legend | Color |
| Native | |
| Native or Not Present | |
This tentative map is based on our own research. It may have limited data on Canada and/or Mexico, and there is some subjectivity in our assignment of plants as introduced vs. expanded. Read more in this blog post.
↑Similar Plants
↑Habitat
Found in sunny, open habitats, especially those that have been recently disturbed in ways that remove much of the vegetation. Habitats include dry praries, rock outcroppings, openings in forests, abandoned fields, recently clear-cut forests, roadsides, areas along railroads, and industrial waste areas. Can tolerate shade up to about 50% of full sunlight.

Favors areas that have burned recently, especially habitats that burn annually in winter to early spring, but less dominant in areas that burn during the summer.

Habitat preferences overlap with partridge pea (Chamaecrista fasciculata) and both often occur in the same habitat; compared with this other species, C. nictitans is relatively more likely on acidic soils, more tolerant of winter fires, and less competitive when growing with other herbaceous vegetation. It ranges farther northeast and reaches to higher altitudes in the Appalachians, but ranges less far northwest and is absent from most of the great plains.
↑Links & External Resources
• Chamaecrista nictitans (sensitive partridge pea) | USDA PLANTS Database (About This Site)
• Chamaecrista nictitans | Go Botany (About This Site)
• Chamaecrista nictitans (sensitive partridge pea) | CABI Invasive Species Compendium (About This Site)
• Chamaecrista nictitans | Biota of North America Project (BONAP) (About This Site)
• Chamaecrista nictitans | NatureServe Explorer (About This Site)
• Chamaecrista nictitans | Missouri Plants (About This Site)
• Sensitive Pea | Maryland Biodiversity Project (About This Site)
↑Photo gallery