Home
»
Plants
»
Elymus macgregorii
Early Wildrye (Elymus macgregorii
R. Brooks & J.J.N. Campb.

)

Also known as Macgregor's wildrye.

This species was only described and split into its own species in 2000; formerly it was lumped together with Virginia wildrye (Elymus virginicus). As such, older keys point it to that species, and its range is underreported. It is nowhere near as rare as some sources claim.

Page contents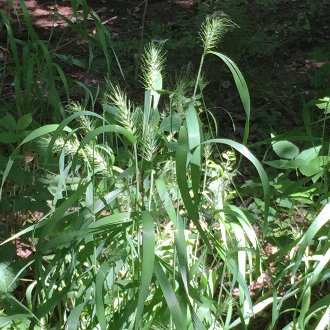 ↑Summary
A perennial cool-season bunchgrass native to eastern North America, found in moist-to-mesic forests on deep, calcium-rich soils.
| | |
| --- | --- |
| Legend | Color |
| Native | |
| Native or Not Present | |
This tentative map is based on our own research. It may have limited data on Canada and/or Mexico, and there is some subjectivity in our assignment of plants as introduced vs. expanded. Read more in this blog post.
This species is underreported in most sources. Our map reports a number of populations that are missed on many maps, including in the Boston Mountains, the Erie Drift Plain, and the Eastern Great Lakes Lowland. There may be other missed populations; please contact us if you know of any populations outside the zones marked solid green on our map.
↑Similar Plants
↑Habitat
Found in partly-sunny openings in rich deciduous forests, including well-drained portions of bottomlands, especially along major rivers, and occasionally on moist to mesic sites in upland forests. Although this species is mostly found in wild areas, it often concentrates along areas of minor anthropogenic disturbance such as along paths or roads through forested parks or nature preserves.

Found primarily on deep calcareous soils, including both on alluvial soils and residuum derived from calcareous rocks such as limestone or dolomite. Requires good drainage and is absent from poorly-drained and frequently-flooded sites. We found less information on this species preferred light levels, but it seems to prefer partial sun to light shade, being absent both from exposed, sunny sites and closed-canopy forests. It tolerates rather degraded habitats and can survive in areas where there is deer overbrowsing and/or an abundance of invasive plants. Prefers and probably requires some degree of small-scale disturbance to maintain its populations on a site, but intolerant of larger-scale disturbance that opens greater amounts of sunlight.

This species is more widespread than most authorities report, and may occur in a wider range of habitats than some sources report.

This species often overlaps with other Elymus species in the same habitat. Relative to Virginia wildrye (Elymus virginicus), which is also common in open bottomland forests, this species is less tolerant of sun and is more restricted to calcareous soils. Relative to riverbank wildrye (Elymus riparius), this species is less tolerant of flooding and poor drainage, and ranges farther into upland habitats. Relative to eastern bottlebrush grass (Elymus hystrix) this species prefers slightly sunnier, moister conditions and is less tolerant of rocky or heavy clay soils. Relative to southeastern wildrye (Elymus glabriflorus) this species is more restricted to moist sites, and much less tolerant of acidic and sandy soils.
↑Life Cycle
Relatively little is known about this species' lifecycle relative to other Elymus species, in part due to it being newly described and also due to it being frequently misidentified. Like most other members of its genus, it is a cool-season perennial bunchgrass. It blooms earliest among the members of its genus, and it also invests less in seed production and relatively more in its root system.

It is likely longer-lived, likely as long as eastern bottlebrush grass (Elymus hystrix) which grows in similar habitats and also invests less in seed production; that species is likely to live 10 years or longer under suitable conditions.
↑Faunal Associations
We could not find any information on specific associations with this species. If this species is like other Elymus species, it is probably browsed lightly by mammalian herbivores early in the spring, and ignored later. Since Elymus species tend to be mostly ignored by mammalian herbivores after the seeds mature, as they dislike the sharp awns, the early maturation of this species seed spike may be a factor in its survival in areas subjected to heavy deer browsing.

There are a number of lepidoptera that feed on Elymus species within the range of this species, but we do not know the degree to which this particular species is an important and/or preferred food source for them.
↑Uses
This species is rarely used in landscaping or ecological restoration projects, in part because it is not well-known. However, some native plant nurseries have recently begun selling it, usually selling seed, for these uses.

It may make an appealing ornamental grass for use in gardens and landscaping due to its small maximum height (to about 4 feet), attractive seed spikes, and deer resistance, but as it has little history of use, it is hard to know how well-suited it is to this end. It is likely easy to grow in situations that mimic its natural habitat: partial shade in soils that are moist, deep, calcium-rich, and well-drained.

Its ability to thrive in degraded sites with invasive plants and heavy deer browsing will likely make it useful in restoration plantings in degraded bottomland woodlands with the deep calcareous soils it prefers.
↑Related Plants
This species is closely related to Virginia wildrye (Elymus virginicus) and southeastern wildrye (Elymus glabriflorus), and is able to form fertile hybrids with both. Hybrids with both species are limited by the mostly non-overlapping bloom periods.

Numerous other Elymus species, mostly native, overlap with this one in range, but they are less closely-related, and if hybrids with these species do occur, they are likely sterile.

Outside the genus, this species belongs to the broader Triticeae tribe, which includes numerous cultivated grain species including wheat, barley, and rye, and some of their more weedy relatives. Most of these grasses are non-native, but there are some native members of the barely (Hordeum) and Leymus genera.
↑Notes
We prefer the common name "Early Wildrye" as it is more descriptive.
↑Links & External Resources
• Elymus macgregorii (early wildrye) | USDA PLANTS Database (About This Site)
• Elymus macgregorii | Go Botany (About This Site)
• Macgregor's Wildrye | iNaturalist (About This Site)
• Elymus macgregorii | Biota of North America Project (BONAP) (About This Site)
• Elymus macgregorii | Flora of North America (About This Site)
• Early Wildrye | Maryland Biodiversity Project (About This Site)
↑Photo gallery