Home
»
Plants
»
Kalopanax septemlobus
Castor-Aralia (Kalopanax septemlobus)
Also known as castor aralia, tree aralia.
Page contents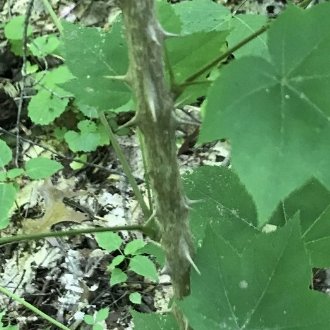 ↑Summary
An uncommonly cultivated introduced species in North America, someties escaping into the wild; has potential to become invasive, but not widely planted.
| | |
| --- | --- |
| Legend | Color |
| Introduced | |
| Introduced or Not Present | |
This tentative map is based on our own research. It may have limited data on Canada and/or Mexico, and there is some subjectivity in our assignment of plants as introduced vs. expanded. Read more in this blog post.
↑Description & Identification
A large deciduous tree native to East Asia and introduced in North America, where it shows potential to become an invasive species, but has yet to become widely established, because it is only rarely planted.
↑Similar Plants
↑Habitat
The habitat of this species in North America is not well-known. In Japan, China, Korea, and eastern Russia, it is a dominant canopy tree in cool, moist deciduous forests. Usually found in moist, fertile soils.

This species has been threatened in its native range.
↑Life Cycle
Seed is dispersed by birds, and only germinates after a period of cold-dormancy.
↑Uses
Used for timber in China, where it is planted for this purpose.

In Korea, this is one of many plants used to make Sukhoe(??); the young shoots are used.

In the U.S., rarely planted as an exotic specimen, mostly in arboretums. We recommend removing it and not planting it, as it has shown high potential to become invasive and the main limiting factor in its invasiveness is probably the fact that it is rarely planted.
↑Related Plants
This species is the only species of its genus. There are, however, numerous other species in the Schefflerieae tribe of the Aralioideae subfamily of the Araliaceae family, to which this species belongs.

In North America, these plants include the introduced plants Eleutherococcus sieboldianus and Eleutherococcus trifoliatus (Eleuthero or Siberian ginsengs), Fatsia japonica, several Hedera sp. (Ivy), and Schefflera sp., Tetrapanax papyriferus.

Devilsclub (Oplopanax horridus) is native to the northwest, but does not overlap with areas where this species has been introduced. It is the closest relative of this species native anywhere in North America.

The broader Aralioideae subfamily contains numerous native and introduced plants.
↑Links & External Resources
• Kalopanax septemlobus (Castor-Aralia) | USDA PLANTS Database (About This Site)
• Kalopanax septemlobus | Go Botany (About This Site)
• Kalopanax septemlobus (Castor Aralia) | Missouri Botanical Garden Plant Finder (About This Site)
• Kalopanax septemlobus | Biota of North America Project (BONAP) (About This Site)
↑Photo gallery