Home » Regions » North America » Eastern Temperate Forests » Mixed Wood Plains » Acadian Plains and Hills » Downeast Coast
Downeast Coast
Page contents
↑About the Downeast Coast
The
Downeast Coast
is a region encompassing the easternmost portion of shoreline in Maine, extending from Penobscot bay eastward. It is the northeasternmost portion of shoreline in the United States. The region contains Mount Desert Island, home to Acadia National Park.
Most of this region consists of islands, bays, and peninsulas. The eastern end of this region, past Machias bay, has a straighter coastline marked by steep cliffs. Most of the coastline is rocky; some beaches and tidal flats can be found where sediment has accumulated in sheltered areas. Coastal tides have a high amplitude in this region. The more inland portions of this region consist mostly of rolling plains and hills. There are also some lakes and wetlands, including some bogs. Mount Desert Island is uniquely steep, reaching an elevation of 1,527 ft (465 m) at Cadillac mountain, the highest coastal mountain on the east coast of the United States.
The climate here is a humid and continental with strong maritime influence. Precipitation is higher and temperatures more moderate than areas inland, and the climate here is cooler and foggier than coastal areas to the southwest. Unusual for such a cold climate, precipitation is highest in winter, with both heavy snowfall and some rain.
Coastal areas originally supported spruce-fir maritime forest, featuring
red spruce (Picea rubens)
,
white spruce (Picea glauca)
,
balsam Fir (Abies balsamea)
, and
Tamarack (Larix laricina)
. Farther inland, spruce-northern hardwoods forest also featured hardwoods, including
Sugar Maple (Acer saccharum)
,
American Beech (Fagus grandifolia)
, and
Yellow Birch (Betula alleghaniensis)
. Dry, rocky ridges on Mount Desert Island featured
Jack Pine (Pinus banksiana)
at its southern range limit. The higher summits had subalpine heath-krummholz communities, with some barren rock.
This region is the southern limit of some plants normally only found in boreal regions, including
black crowberry (Empetrum nigrum)
,
Cloudberry (Rubus chamaemorus)
, and
roseroot stonecrop (Rhodiola rosea)
. Some of the rockiest wooded areas support
black spruce (Picea mariana)
and various heaths, also more typical of more northern regions. At the same time, in the lower-elevation areas around Mount Desert Island,
Pitch Pine (Pinus rigida)
and oak woodlands reach their northern limits.
This region is still mostly forested, with a similar composition to its original cover. There is some blueberry cultivation, as well as tourism, hunting, and both recreational and commercial fishing and lobsterering. There is also some forestry, although less than in the interior of Maine. Historically, there was also some peat mining. The year-round population here is low, although the summer population increases significantly due to tourism.
Farther east, in Canada, this region is bordered by the Fundy Coast. To the west, it is bordered by the
Midcoast
. Inland, to the north, it borders the
Midcoast
, and there is a very small border to the northwest with the
Central Maine Embayment
.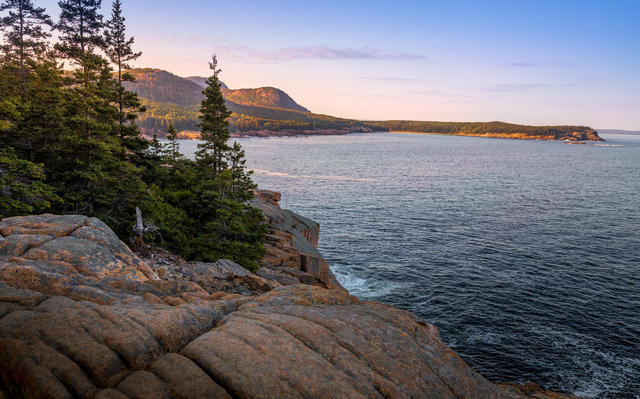 This photo taken from Otter Point on Mount Desert Island shows a rocky coastline with coastal cliffs typical of the region. Conifers dominate the rocky areas near the ocean, although broadleaf trees become more common on richer soils farther inland.. Photo © Chris Collins,
CC BY-SA 2.0
,
Source
.
Plant Lists & In-Region Search
We do not yet have data to generate plant lists for a region as fine-tuned as this one. However you can move up to the broader Acadian Plains and Hills and generate lists for that region: native plants or all plants. Or search that region's plants here:
↑References
1. Griffith, G.E., Omernik, J.M., Bryce, S.A., Royte, J., Hoar, W.D., Homer, J.W., Keirstead, D., Metzler, K.J., and Hellyer, G. "Ecoregions of New England (Poster)", U.S. Geological Survey (2009) Web.