Home » Regions » North America » Tundra
Tundra
Page contents
To check where a specific point lies, you can look it up in our Ecoregion Locator.
↑Map Legend & Subregion List
This list will help you navigate the regions in case you have problems with viewing or clicking the interactive map above.
† Status: ✓ = Complete ○ = Needs Image … = Incomplete ∅ = Stub Only
↑Progress
| | | |
| --- | --- | --- |
| Partially Complete | With Images | Complete w/ Images |
Get involved! You can help our ecoregion articles progress faster. Help us find photos of these regions. Contact us if you have any additions or corrections to any of these articles. You can also donate to support our ongoing work.
↑About the Tundra
Tundra is a biome characterized by a short growing season, cold temperatures, and permafrost. In North America, the tundra extends through the northernmost part of Canada up to the base of the
Arctic Cordillera
, and around the west coast of Alaska until temperatures become moderate enough to support greater tree growth.
Growth of trees is hindered in Tundra by the combination of permafrost and extremely cold winters; most of the plants consist of lichens, mosses, grasses, sedges, and small shrubs. Some of the same woody species that have a dwarf shrub or mat-like growth habit in this region can grow into larger trees south of the tree line. At the tree line to the south, this ecoregion gives way to the
Taiga
. In the far northeast, this region also borders the even more barren Arctic Cordillera.
The landscape here is diverse, with grass-dominated plains, lakes that spend most of the year frozen, and exposed upland areas generally devoid of snow.
Overall, this region is low in plant biodiversity, although much richer than that of the mountainous Arctic Cordillera region. Because of the recent presence of a land bridge to Siberia, much of the flora of this area is closely related to that in Siberia, with many species with circumpolar distribution, as well as closely-related groupings treated as different species.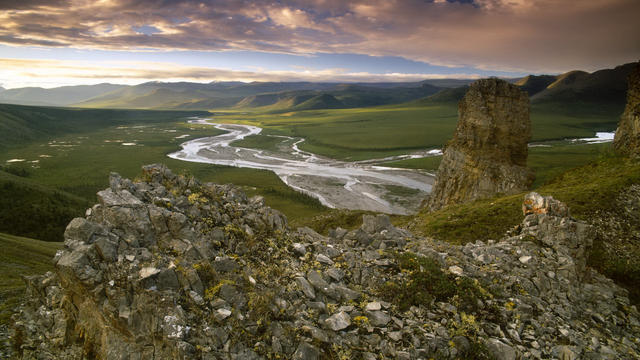 This photo shows a sunset over the Firth River in Ivvavik National Park, YT, Canada. Note the absence of tree growth across most of the area, in spite of the mostly-green landscape. Photo © DJANDYW.COM AKA NOBODY,
CC BY-SA 2.0