Home » Regions » North America » Eastern Temperate Forests » Southeastern USA Plains » Piedmont » Carolina Slate Belt
Carolina Slate Belt
Page contents
↑About the Carolina Slate Belt
The
Carolina Slate Belt
is an irregular, patchy part of the
Piedmont
extending from southern Virginia through the Carolinas and just into eastern Georgia. It is widest in North Carolina. At its southern end, it also has a small, discontinuous piece in Georgia and South Carolina, farther inland than the main part.
This region is underlain by mineral-rich metavolcanic and metasedimentary rocks including slate and other finer-grained rocks that cleave in a flat, slate-like way. On average, the rocks here are less metamorphosed than most of the rest of the Piedmont, and are thus less resistant to erosion, but the geology here is diverse, and there are also volcanic rocks, and intrusions of granite. The greater erodibility of these rocks has created a region with lower elevations and wider valleys, although parts of this region are still rugged and hilly. Soils here tend to be silty and clayey.
The climate here is humid and subtropical, with rainfall roughly equally distributed year-round. Especially in the south of this region, smaller streams tend to be seasonal, drying up in summer, reflecting higher evapotranspiration rates in hotter weather rather than any difference in rainfall. There are also numerous small ponds and small lakes.
Like most of the Piedmont, original forest cover here was probably mostly Oak-Hickory-Pine forest. The original forests have been cleared, and the current forests are all regrowth, mostly on abandoned agricultural land.
This region presently has diverse utilization of the land. There is significant mining and mineral extraction as well as agriculture. Forest cover is higher than most parts of the Piedmont, and there is also substantial public and protected land, the largest of which is the Uwharrie National Forest. There is some recreation, hunting, trapping, and fishing on these lands. There is also a small amount of suburbanization; this area also contains the southeastern portion of the Charlotte, NC and the northern portion of the Columbia, SC metro areas. As well yields and groundwater recharge rates in this region are low, some streams have been dammed to create reservoirs, especially in the south of this region where water demands are higher.
The northern end of this region is surrounded by the
Northern Outer Piedmont
, which also borders it to the east for quite a distance. Inland, it is bordered by the
Northern Inner Piedmont
in the north. Over most if its length, it is bordered to the northwest by the
Southern Outer Piedmont
, which also surrounds it at its southern end. From mid-North Carolina south, it is bordered to the southeast by the
Sand Hills
, except in portions where it is bordered instead by two of the
Triassic Basins
. In Georgia, it also shares a small border to the southeast with the
Atlantic Southern Loam Plains
.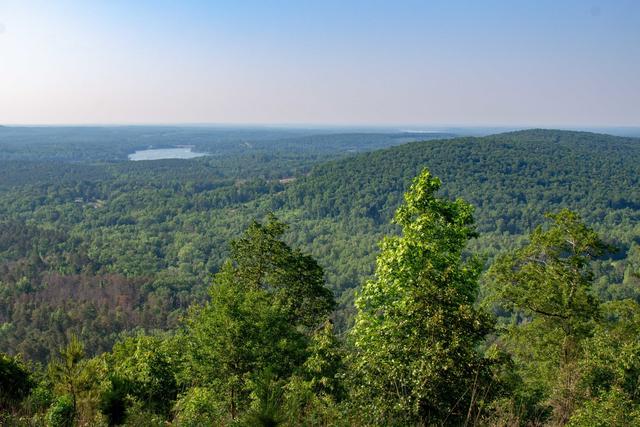 This landscape shows a mix of more rugged and lower, flatter terrain typical of the Carolina Slate Belt; although parts of the region are more utilized for agriculture, there are also large continuous tracts of forest like shown here. Photo © Stuart Borrett,
CC BY 2.0
,
Source
.
Plant Lists & In-Region Search
We do not yet have data to generate plant lists for a region as fine-tuned as this one. However you can move up to the broader Piedmont and generate lists for that region: native plants or all plants. Or search that region's plants here:
↑References
1. Woods, A.J, Omernik, J.M., Brown, D.D. "Level III and IV Ecoregions of Delaware, Maryland, Pennsylvania, Virginia, and West Virginia", U.S. Environmental Protection Agency: National Health and Environmental Effects Research Laboratory, Corvallis, OR (1999) Web.