Home » Regions » North America » Eastern Temperate Forests » Southeastern USA Plains » Piedmont » Kings Mountain
Kings Mountain
Page contents
↑About the Kings Mountain
Kings Mountain
is a rugged, hilly region located within the
Piedmont
. Roughly a third of this region is located in North Carolina, and the other two-thirds in South Carolina.
This region consists of mostly-unbroken ridges of various heights, oriented northeast-southwest, interspersed amongst hilly, dissected terrain that averages more rugged and higher-elevation than the surrounding areas of the Piedmont. The rocks here are distinctive, including metasedimentary and metavolcanic rocks; compared to other nearby deposits, the rocks here have a lower degree of metamorphism, and greater mineral diversity. Quartz-sericite schist, rich in aluminum, is common. Soils here have considerable diversity, but many are derived from fine-textured rocks and have a fine sandy-to-silty texture similar to that in the
Carolina Slate Belt
.
Historically, this area was mined heavily, initially for iron, and later for marble, lime, gold, and numerous other metals and minerals, as well as clay. This area presently has a large portion of forest cover, mostly mixed oak and oak-pine-hickory forest. Some of the highest ridges are dominated by
virginia pine (Pinus virginiana)
. There are significant areas of protected land here, in Kings Mountain State Park, Kings Mountain National Military Park, and Crowders Mountain State Park. There is significant urban and suburban development here, mostly towards the northwest of this region at lower elevations, including the cities of Kings Mountain, NC, Bessemer City, NC, which are often considered suburbs of Charlotte, NC, and the smaller town of Blacksburg, SC.
This region is entirely surrounded by the
Southern Outer Piedmont
; this border is largely defined by changes in underlying geology.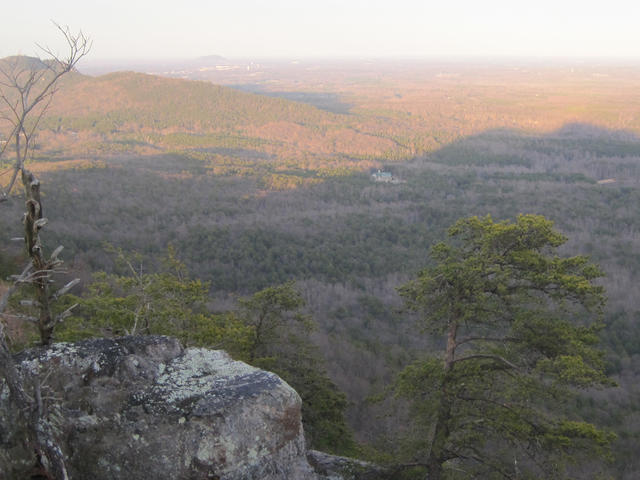 This view from King's Pinnacle in Crowder Mountain State Park, NC shows typical scenery of the Kings Mountain ecoregion; one of the higher ridges is visible in the background. Virginia pine, seen in the foreground, is dominant on some ridgetops. This photo is a crop of a photo ©Chris Ballance,
CC BY 2.0
,
Source
.
Plant Lists & In-Region Search
We do not yet have data to generate plant lists for a region as fine-tuned as this one. However you can move up to the broader Piedmont and generate lists for that region: native plants or all plants. Or search that region's plants here:
↑References
1. Comstock, J.A.; Griffith, G.E.; Omernik, J.M. "Ecoregions of North Carolina: Regional Descriptions", (2002) Web.