Home » Regions » North America » Northern Forests » Mixed Wood Shield » Northern Lakes and Forests » Superior Mineral Ranges
Superior Mineral Ranges
Page contents
↑About the Superior Mineral Ranges
The
Superior Mineral Ranges
, the Wisconsin portion in some documents referred to as the
Ontanagon Lake Moraines and Gogebic Iron Range
, are a rugged region of hills, ridges, and low mountains, mostly oriented east-west to northeast-southwest, and contained mostly in Michigan's upper peninsula, but also extending into Wisconsin. The region consists of three discontinuous pieces, one entirely in Michigan, mostly on the Keweenaw Peninsula, one split between Michigan and Wisconsin (the
Gogebic Range
), and one consisting of Isle Royale in the middle of Lake Superior.
This region is underlain by igneous and metamorphic rock, mostly basalt and conglomerate. Atop this lies thin and discontinuous loamy glacial till, but throughout most of the region bedrock outcroppings are common. The bedrock forms steep ridges that rise several hundred feet above their surroundings; outcroppings become less numerous and lower in the southwest of this region. There are abundant perennial streams as well as small lakes. There are a few areas with sandy soils of lake origin, mainly along the lakeshore, and some areas of rocky ground moraine. Soils over bedrock tend to be thin; till-based soils are deeper and more ideal for plant growth. There are also boggy areas in the depressions between ridges with acidic, poorly-drained soils.
This region has a humid continental climate that is colder than its surroundings. Isle Royale, surrounded by Lake superior, has the most lake-moderated climate, followed by the portion on the Keweenaw Peninsula, whereas the southernmost portion of this region on the mainland is less lake-moderated. However, the lower elevations and more southerly location of the southern portion give it a roughly similar growing season and winter low temperatures.
Originally this area was mostly forested. Bedrock ridges featured a mix of
red pine (Pinus resinosa)
,
eastern white pine (Pinus strobus)
,
northern red oak (Quercus rubra)
, and
paper birch (Betula papyrifera)
, with stunted growth of krummholz on the most exposed knobs. Areas with deeper till soils, as well as more sheltered sites on bedrock soils, supported northern hardwood forest with
sugar maple (Acer saccharum)
,
eastern hemlock (Tsuga canadensis)
,
American basswood (Tilia americana)
, and
yellow birch (Betula alleghaniensis)
. Some upland areas with thin till and ground moraine also had a mix of
northern white-cedar (Thuja occidentalis)
,
balsam fir (Abies balsamea)
, hemlock, and paper birch. The few local areas with excessively-drained sands were dominated by
jack pine (Pinus banksiana)
.
This area has been heavily logged and also utilized for iron and copper mining. The original forests have been cleared, and many of the rivers polluted by mine spoils. Wetlands have also been reduced by channelization for shipping. Current forest composition is very different from its state prior to European settlement. Thin soils over bedrock now support aspen, birch,
white spruce (Picea glauca)
, and
balsam poplar (Populus balsamifera)
. More sheltered sites and sites with deeper till-based soils support sugar maple, yellow birch, and balsam fir. There is a significant amount of protected land here: the entirety of Isle Royale is a national park, and there are some small preserves on the mainland as well. There is also some residential development and a small amount of agriculture on the flatter areas with deeper soils. The largest cities here are Houghton, MI and Ironwood, MI, and there are numerous smaller towns.
The northeastern portion of this region on the mainland is bordered to the southeast by the
Keweenaw-Baraga Moraines
, a region with deeper soils formed on glacial moraines and outwash. The southwesternmost portion of this region is bordered by the
Lake Superior Clay Plain
to the north and east, and bordered to the south by the
Winegar Dead Ice Moraine
in the east. The westernmost end of this region is bordered to the south by the
Chequamegon Moraines and Outwash Plain
and to the northwest by the
St. Croix Pine Barrens
.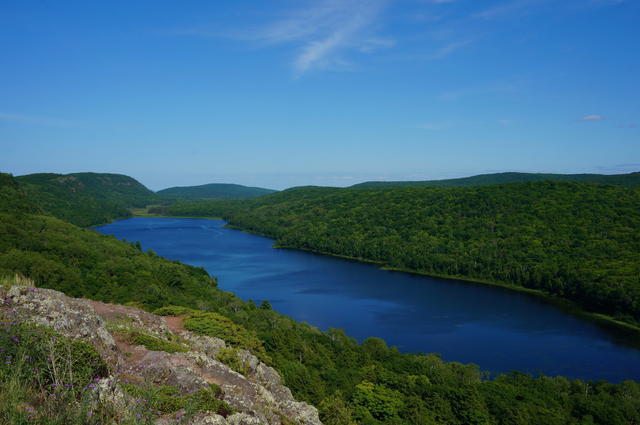 This landscape at Porcupine Mountains Wilderness State Park, Michigan, shows a landscape typical of the Superior Mineral Ranges, with a lake lying between long, rugged ridges, and exposed bedrock in the foreground. Photo © Rachel Kramer,
CC BY 2.0
,
Source
.
Plant Lists & In-Region Search
We do not yet have data to generate plant lists for a region as fine-tuned as this one. However you can move up to the broader Northern Lakes and Forests and generate lists for that region: native plants or all plants. Or search that region's plants here:
↑References
1. Omernik, J.M., Bryce, S.A. "Michigan: Level III and IV Ecoregion Descriptions / Mapping Issues", US EPA (2007) Web.
2. Albert, Dennis A. "Regional landscape ecosystems of Michigan, Minnesota, and Wisconsin: a working map and classification.", General Technical Report NC-178, U.S. Department of Agriculture, Forest Service, North Central Forest Experiment Station, St. Paul, MN (1995) Web.