Home
»
Plants
»
Betula papyrifera
Paper Birch (Betula papyrifera)
Also known as white birch.
Page contents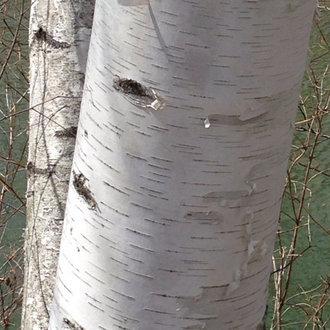 ↑Summary
A birch native to North America with a northerly distribution; occurring farther south only at higher elevations, and when planted as a landscaping plant.
This tentative map is based on the FHWA's ERA. This data lacks information on Canada, but also overestimates native ranges, especially around the edges, as this post explains. We have not yet reviewed or fixed this map.
USDA Plants Profile for Betula papyrifera
↑Similar Plants
↑Uses
Sometimes planted as a landscaping plant considerably farther south than its native range, due to the striking visual appearance of its white bark. Often fares poorly in these areas, due to its lower tolerance of hot, humid summer conditions. The river birch (Betula nigra) has similar-looking bark and is usually a better choice in warmer climates.
↑Photo gallery