Home » Regions » North America » Eastern Temperate Forests » Central USA Plains » Central Corn Belt Plains » Chicago Lake Plain
Chicago Lake Plain
Page contents
↑About the Chicago Lake Plain
The
Chicago Lake Plain
is a region extending along the southwestern border of Lake Michigan; it contains most of the city of Chicago as well as much of its suburbs, and extends southeast into northwestern Indiana. This is one of the most urbanized ecoregions in North America.
This region is a nearly level plain that was formed under a glacial lake. Soils here are formed on lake sediments, dune sand and other beach deposits, and some clayey glacial till. Natural drainage here was poor. The climate is humid and continental, moderated by the presence of the lake and warmed by urban heat island effect, which can raise temperatures 2-8°F (~1-4°C), depending on area and time of day. The northwest-to-southeast movement of most weather systems in this region leads there to be negligible lake effect precipitation, contrasting with areas southeast of the lake. This region has the most extreme weather of any of the largest 15 metro areas in the U.S, as measured by unusual hot and cold spells and record temperatures.
Original vegetation cover here, before European colonization, was a mix of prairies, fens, marshes, and scrub-oak forests, with oak-hickory forest in the southeast, and open oak savannas on areas transitional between forest and prairie.
White oak (Quercus alba)
,
bur oak (Quercus macrocarpa)
,
black oak (Quercus velutina)
, and
northern red oak (Quercus rubra)
were the dominant tree species, with northern red oak on the richest sites, black oak mostly on uplands, and bur oak dominating the savannas. These historic ecosystems are inseparable from Native American influence, as Native Americans colonized this area shortly after the most recent glacial retreat, and managed them through a system of burning and land clearing that increased the portion of savanna and prairie. Without human influence, this area might have shifted to having a greater portion of closed-canopy forests, with more total woody plants and fewer fire-adapted species.
Nowadays, this region is almost entirely urbanized, including downtown Chicago, and residential and industrial development extending throughout, with some suburban development farther from the downtown. Few wild ecosystems still exist throughout most of this region, the land has been severely altered by drainage, and the underlying substrates in many areas have been altered by the introduction of artificial fill. There are a small amount of protected, but highly altered wetlands in Big Marsh Park and around Wolf Lake. In the south, there is a small amount of protected forest at the Wampum Lake Woods and Brownell Woods. In the north, some forests can be found along the north branch of the Chicago River, including LaBagh Woods, Forest Glen Woods, Edgebrook Woods and the Thaddeus S. "Ted" Lechowicz Woods, and the Sidney Yates Flatwoods / Caldwell Woods, and some oak savanna is preserved around the North Park Village nature center. A small portion of the Forest Preserves of Cook County are also located within this region.
This region is almost entirely surrounded to the north, west, and south by the
Valparaiso-Wheaton Morainal Complex
, which has a hillier landscape with numerous glacial features. At the far southeast of this region, along the lake it is bordered by the
Michigan Lake Plain
, which has higher dunes, a slightly more moderate climate, and greater lake-effect snow. Inland, there is a small border to the east with the
Battle Creek/Elkhart Outwash Plain
.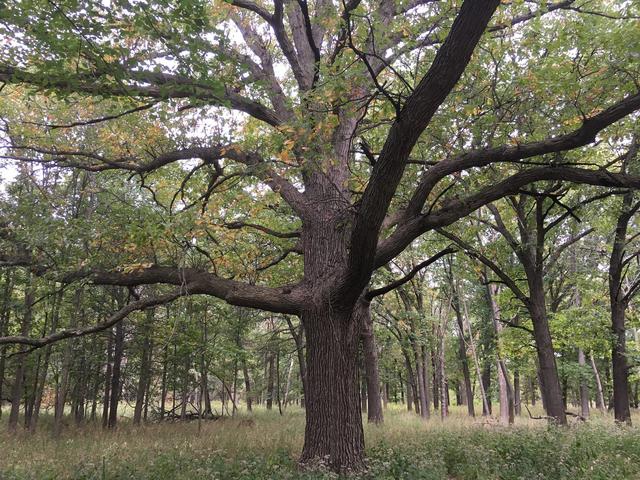 This photo shows a bur oak in one of the few remaining oak savannas in the Chicago area, this one at the North Park Village nature center. Such habitat used to be abundant in the area that has now been heavily urbanized. Photo © Raed Mansour,
CC BY 2.0
,
Source
.
Plant Lists & In-Region Search
We do not yet have data to generate plant lists for a region as fine-tuned as this one. However you can move up to the broader Central Corn Belt Plains and generate lists for that region: native plants or all plants. Or search that region's plants here:
↑References
1. Woods, A.J, Omernik, J.M., Brockman, C.S., Gerber, T.D., Hosteter, W.D., Azevedo, S.H. "Ecoregions of Indiana and Ohio (Poster)", US Geological Survey (1998) Web.
2. Woods, A.J., Omernik, J.M., Pederson, C.L., Moran, B.C. "Level III and Level IV Ecoregions of Illinois", U.S. Environmental Protection Agency, Washington, DC (2006) Web.
3. Fahey, R.T.; Darling, L.; Anderson, J. "Oak Ecosystems Recovery Plan", Chicago Wilderness (2015) Web.