Home » Regions » North America » Eastern Temperate Forests » Mixed Wood Plains » Southern Michigan/Northern Indiana Drift Plains » Michigan Lake Plain
Michigan Lake Plain
Page contents
↑About the Michigan Lake Plain
The
Michigan Lake Plain
is a narrow plain extending along the eastern shore of Lake Michigan, characterized by sandy soils and a lake-moderated climate. It extends through most of the lower peninsula of Michigan, into a small portion of northwest Indiana.
This is a sandy region with beaches, dunes, lake sediments, and clayey glacial till. Soils are mostly well-drained sand and tend to be poor at holding moisture, although poorly-drained soils can be found on clayey till as well as in interdune depressions with muck soils.
This region has a humid continental climate moderated by Lake Michigan. Relative to what is typical for the area, the lake produces milder winters, cooler summers, slightly delayed seasons, and higher precipitation, particularly increased snowfall in winter. The frost-free growing season ranges from 165-190 days, and is highest in the south and closest to the lake. Precipitation is roughly equally-distributed year round, but the north of this region tends to have precipitation peak in September, whereas in the south it tends to peak in June.
This region was originally covered in oak-hickory forest, open oak savanna, and prairie, with some dune and fen communities as well. Farther north, pine was also found on dunes, and beech-sugar maple forest on richer sites. Wetlands ranged from treeless marshes to forested swamps with black ash and silver maple, to tamarack swamps on other sites. The lake-influenced microclimate produces some peculiarities in this region, including eastern white pine and eastern hemlock extending farther south than in most regions, and beech and sugar maple surviving on sandier, drier soils due to reduced moisture stress associated with greater cloud cover and cooler summer temperatures.
There has been urbanization and industrial development, both in the southwest and north of this region, although not as much as regions to the west, closer to Chicago. Some areas have been altered by artificial fill. Outside the cities, this region is heavily utilized for agriculture, especially vegetable and fruit farming, orchards, vineyards, and production of nursery stock. Most of the coastal wetlands have been drained, often for blueberry and asparagus farming. In spite of the heavy utilization of most of this land, there is also a lot of protected land here, including Indiana Dunes National Park, and in Michigan, Warren Dunes State Park, Grand Mere State Park, Ross Coastal Plain Marsh Preserve. Part of the Huron-Manistee National Forests also extends into this area, although most of it is located farther inland.
To the north, along the lake, this region is bordered by the
Manistee-Leelanau Shore
. In the northernmost part it is bordered inland, to the east, by the
Newaygo Barrens
. Over most of its length, it is bordered to the east by the
Lake Michigan Moraines
. At its southernmost end, it is bordered to the southeast by the
Battle Creek/Elkhart Outwash Plain
. To the west along the southern end of the lake, it is bordered by the
Chicago Lake Plain
.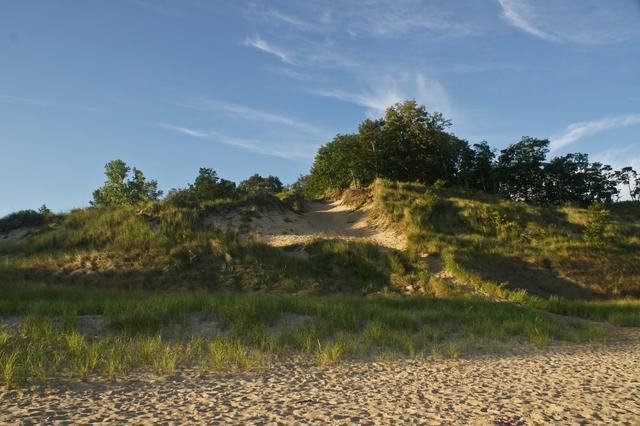 This photo, taken at Indiana Dunes, shows the transition from the wave-washed beach, through dune communities, to oak savanna behind the dunes. Such communities were common throughout the south of the Michigan Lake Plain region, with more northerly species appearing at the northern end. Photo © Paul J Everett,
CC BY 2.0
,
Source
.
Plant Lists & In-Region Search
↑References
1. Woods, A.J, Omernik, J.M., Brockman, C.S., Gerber, T.D., Hosteter, W.D., Azevedo, S.H. "Ecoregions of Indiana and Ohio (Poster)", US Geological Survey (1998) Web.
2. Omernik, J.M., Bryce, S.A. "Michigan: Level III and IV Ecoregion Descriptions / Mapping Issues", US EPA (2007) Web.