Home » Regions » North America » Eastern Temperate Forests » Ozark, Oauchita-Appalachian Forests » Blue Ridge » Sauratown Mountains
Sauratown Mountains
Page contents
↑About the Sauratown Mountains
The
Sauratown Mountains
are an isolated mountain range that is geologically part of the
Blue Ridge
, but is separated from it, located to the southeast, where it is surrounded by the lower-elevation, flatter
Piedmont
. The Sauratown Mountains are completely contained within North Carolina, and consist of a larger piece to the east, and to the west, the isolated
Pilot Mountain
.
The knobs and ridges of this region rise over 1,000 feet above their surroundings. This region exists largely due to the peaks and ridges being capped by erosion-resistant quartzite. The highest point,
Moore's Knob
, reaches 2,579 ft (786 m), and Pilot Mountain reaches 2,421 ft (738 m). The slopes are relatively flat, with relatively little dissection by streams. The shape of the terrain is asymmetrical, with more gentle, convex-topped slopes to the northwest, and steeper, convex slopes to the southeast. The southeast side features extensive bedrock outcroppings and cliffs, many with steep, nearly-vertical faces, and talus slopes beneath these.
The vegetation here is a mix of species found in the Piedmont and the more mountainous Blue Ridge. Forests are mostly mixed oak and oak-pine, with
eastern hemlock (Tsuga canadensis)
in moist, sheltered sites and
Carolina hemlock (Tsuga caroliniana)
on moist, rocky slopes, and
pitch pine (Pinus rigida)
and
table mountain pine (Pinus pungens)
on drier, exposed ridges and rocky slopes. The understory features rhododendron and azalea (
Rhododendron sp.
),
beetleweed (Galax urceolata)
, and
mountain laurel (Kalmia latifolia)
.
Much of this region consists of protected public land, in the east in
Hanging Rock State Park
, and in the west in
Pilot Mountain State Park
. The region is sparsely populated, with only a small number of residences, mostly around the margins of this area, at lower elevations; the unincorporated community of Gap, NC is also located here.
This region is entirely surrounded by the
Northern Inner Piedmont
, which is relatively flatter and lower elevation, although still somewhat rugged, and which has a lower percentage of forest cover and noticeably more dissected terrain, particularly evident at the borders of these two regions.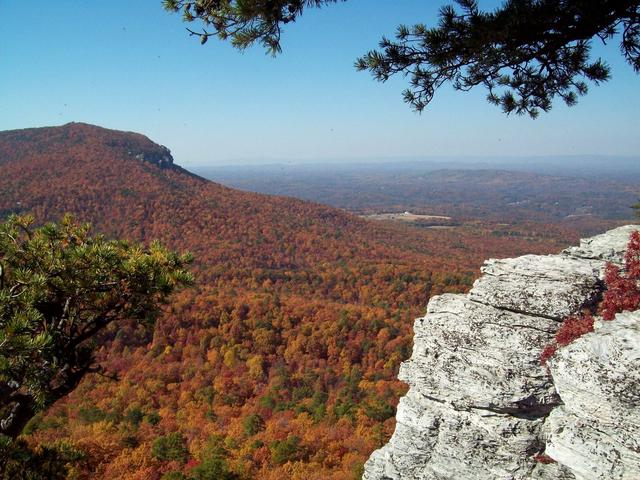 This photo taken in Hanging Rock State Park, North Carolina, shows scenery typical of the Sauratown Mountains: the southeastern-facing slopes of these mountains face steep, nearly-vertical cliffs with numerous bedrock outcroppings; to the northwest, the slopes are gentle. Photo © Jacalyn Engler,
CC BY-SA 2.0
,
Source
.
Plant Lists & In-Region Search
We do not yet have data to generate plant lists for a region as fine-tuned as this one. However you can move up to the broader Blue Ridge and generate lists for that region: native plants or all plants. Or search that region's plants here:
↑References
1. Comstock, J.A.; Griffith, G.E.; Omernik, J.M. "Ecoregions of North Carolina: Regional Descriptions", (2002) Web.