Home
»
Plants
»
Onoclea sensibilis
Sensitive Fern (Onoclea sensibilis
L.

)

Also known as bead fern.

Page contents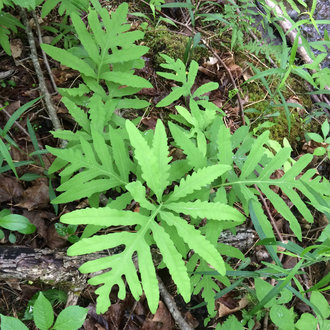 ↑Summary
A common, distinctive-looking fern of wetlands in eastern North America.
| | |
| --- | --- |
| Legend | Color |
| Native | |
| Extirpated | |
| Native or Not Present | |
This tentative map is based on our own research. It may have limited data on Canada and/or Mexico, and there is some subjectivity in our assignment of plants as introduced vs. expanded. Read more in this blog post.
↑Habitat
Found in shaded to partly-shaded wetlands, including swamps, floodplains and other bottomland forests, wet meadows, and bogs. Tolerates slightly drier ground in deeper shade, but generally limited to sites where the soil is consistently wet. Tolerates a wide range of soil pH. Generally found on soils rich in organic matter, but also tolerates clay soils.
↑Life Cycle
Spores grow, into gametophytes, small plants which reproduce sexually; this stage requires standing water for fertilization of the egg. The fertilized egg then grows into a sporophyte, the larger, more visible part of this organism.

Plants grow separate spore-bearing (fertile) fronds and photosynthesizing (sterile) fronds. Spores are held through the winter and released in the spring following the season in which these fronds were produced.

The foliage of the sterile fronds is highly sensitive to frost, as well as drought, hence the plant's name. The fronds turn brown immediately following a frost, but the dead fronds typically remain attached to the plant through winter. Occasionally, late spring frosts will kill the foliage; plants simply regrow new foliage when this happens.

One established, spreads by rhizomes and forms large thickets on favorable sites.
↑Uses
Widely cultivated in gardens, as it is one of the easier ferns to grow, and it can be grown in slightly drier conditions than it would be found in in the wild.
↑Links & External Resources
• Onoclea sensibilis (Sensitive Fern) | Illinois Wildflowers (About This Site)
• Onoclea sensibilis (Sensitive Fern) | USDA PLANTS Database (About This Site)
• Onoclea sensibilis | Go Botany (About This Site)
• Onoclea sensibilis (Sensitive Fern) | Missouri Botanical Garden Plant Finder (About This Site)
• Onoclea sensibilis | Biota of North America Project (BONAP) (About This Site)
↑Photo gallery