Home
»
Plants
»
Sanicula marilandica
Maryland Sanicle (Sanicula marilandica
L.

)

Page contents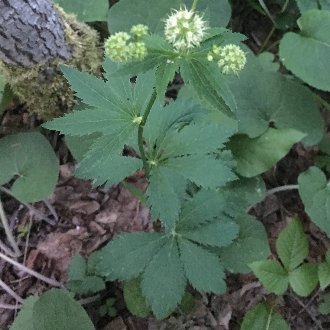 ↑Summary
A biennial of rich woods, particularly slopes, native to the northern and high-elevation portions of both eastern North America and the interior west.
| | |
| --- | --- |
| Legend | Color |
| Native | |
| Native or Not Present | |
This tentative map is based on our own research. It may have limited data on Canada and/or Mexico, and there is some subjectivity in our assignment of plants as introduced vs. expanded. Read more in this blog post.
↑Similar Plants
↑Habitat
Found in rich woodland habitats. Prefers soils that are both nutrient-rich and rocky, and higher in pH and mineral nutrients. In the southern portions of its range, it is more limited to mesic to dry-mesic sites in upland woods, often on sloped terrain, particularly on limestone. In the north of its range, where it is more common, it prefers moister habitats, and can be found in bottomland woods and streambanks, and can be found in a wider range of habitats, including open woodlands and forest edges, cedar swamps, and wooded areas along railroad tracks.

This species ranges farther north and west than other Sanicula that also occur in the east. It is absent from much of the south except at high elevations, probably due to the high rainfall and temperatures leading to leaching of mineral nutrients. However, in the coastal plain there are some isolated populations that seem to survive on acidic soils; these have been designated Sanicula marilandica var. petiolulata Fernald, but this variety is not widely recognized.
↑Notes
This species' common name is highly misleading; it is rare in Maryland and absent from most of the state. It becomes more common both farther north, and to a degree, farther southwest at higher elevations in the southern Appalachians.
↑Links & External Resources
• Sanicula marilandica (Maryland sanicle) | USDA PLANTS Database (About This Site)
• Sanicula marilandica | Go Botany (About This Site)
• Maryland Black-Snakeroot | iNaturalist (About This Site)
• Sanicula marilandica | Biota of North America Project (BONAP) (About This Site)
• Sanicula marilandica | NatureServe Explorer (About This Site)
• Maryland Sanicle | Maryland Biodiversity Project (About This Site)
↑Photo gallery