Home
»
Plants
»
Schizachyrium scoparium
Little Bluestem (Schizachyrium scoparium
(Michx.) Nash

)

Page contents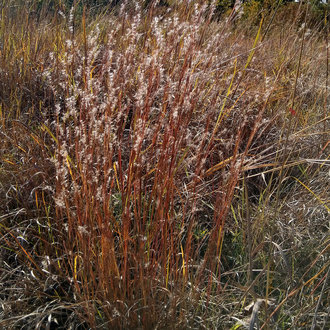 ↑Summary
A bunchgrass native across North America, one of the main components of tallgrass prairie but also found widely in other habitats.
| | |
| --- | --- |
| Legend | Color |
| Native | |
| Native or Not Present | |
This tentative map is based on our own research. It may have limited data on Canada and/or Mexico, and there is some subjectivity in our assignment of plants as introduced vs. expanded. Read more in this blog post.
↑Similar Plants
↑Habitat
Little bluestem has a very large range and inhabits different habitats in different portions of its range. It is a major component of tallgrass prairies, and is also a dominant species in pine savannas and in the understory of open pine forests both in the West and East. Towards the western limits of its range it is mostly restricted to high-elevation habitats, including alpine meadows, and pine, oak, and juniper woodlands. In the humid east, where closed canopy deciduous forests dominate, it is uncommon and scattered, and mostly restricted to either early-successional disturbed habitats, or more permanent open habitats such as serpentine barrens.

Prefers soil conditions low in nutrients, especially those low in nitrogen, although slightly higher than soils favored by winter bentgrass (Agrostis hyemalis). Favors conditions drier than most of the other tallgrass prairie grasses, but moister than the shortgrass prairie grasses that become dominant in the western portion of the Great Plains. In most of its range, it favors coarse-textured soils, especially sands, as well as poorly-developed mineral soils, steep slopes, and thin soils over bedrock or hard clay layers. In the southeast it is common on soils derived from ultramafic material. Indifferent to soil pH and able to thrive on both acidic and alkaline soils.

Tends to inhabit early-to-mid successional stages of most of the habitats it inhabits, including both grasslands and forests.

Often found in fire-prone habitats, and benefits from fire. Best-adapted to a regime where fires occur in fall, winter, or spring, when the plant is dormant. In many regions, little bluestem will be eliminated from habitats that do not burn.

Little bluegrass has been negatively affected by several introduced grasses, including quackgrass (Elymus repens).
↑Life Cycle
Little bluestem is a warm-season bunchgrass.
↑Links & External Resources
• Little Bluestem | Fire Effects Information System (FEIS) (About This Site)
• Schizachyrium scoparium (Little Bluestem) | Illinois Wildflowers (About This Site)
• Schizachyrium scoparium (Little Bluestem) | USDA PLANTS Database (About This Site)
• Schizachyrium scoparium | Go Botany (About This Site)
• Little Bluestem | iNaturalist (About This Site)
• Schizachyrium scoparium (Little Bluestem) | Missouri Botanical Garden Plant Finder (About This Site)
• Schizachyrium scoparium | Biota of North America Project (BONAP) (About This Site)
• Schizachyrium scoparium | NatureServe Explorer (About This Site)
• Schizachyrium scoparium | Flora of North America (About This Site)
• Little Bluestem | Maryland Biodiversity Project (About This Site)
↑Photo gallery