Home
»
Plants
»
Thalictrum pubescens
King of the Meadow (Thalictrum pubescens
Pursh

)

Also known as tall meadow-rue.

Page contents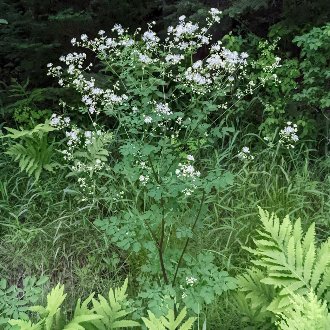 | | |
| --- | --- |
| Legend | Color |
| Native | |
| Expanded | |
| Native or Not Present | |
| Expanded or Not Present | |
| Native or Expanded or Not Present | |
This tentative map is based on our own research. It may have limited data on Canada and/or Mexico, and there is some subjectivity in our assignment of plants as introduced vs. expanded. Read more in this blog post.
This species is occasionally used in gardening and may escape into the wild. BONAP reports the scattered Michigan populations as adventive; we mark them as expanding because of the proximity to its native range.
↑Similar Plants
↑Habitat
Found in a variety of average to wet habitats, including wet meadows, streambanks, openings in forests and swamps, being most common in moist conditions.

Tolerates a wide range of lighting conditions, from full sun to deep shade. Most common on wetland margins; occasionally found in wetlands and uncommon on drier ground in mesic upland forests.

Although this plant is usually more common in natural areas and less common in degraded, anthropogenic habitats, it can thrive in areas where there is some human intrusion through natural areas, such as along woodland paths or areas where power line clearances cut through bottomland forests. Overall however, it is more negatively affected by humans than positively; it is often eliminated from areas following the clearing of forests and/or the drainage of wetlands.
↑Life Cycle
This species is a perennial. It is ambophilous, its flowers being potentially pollinated both by insects and by wind.
↑Links & External Resources
• Thalictrum pubescens (king of the meadow) | USDA PLANTS Database (About This Site)
• Thalictrum pubescens | Go Botany (About This Site)
• Thalictrum pubescens (Thalictrum) | Missouri Botanical Garden Plant Finder (About This Site)
• Thalictrum pubescens | Biota of North America Project (BONAP) (About This Site)
• Thalictrum pubescens | NatureServe Explorer (About This Site)
• Thalictrum pubescens | Flora of North America (About This Site)
• Tall Meadow-rue | Maryland Biodiversity Project (About This Site)
↑Photo gallery