Home
»
Plants
»
Broussonetia papyrifera
Paper Mulberry (Broussonetia papyrifera
(L.) L'Hér. ex Vent.

)

Page contents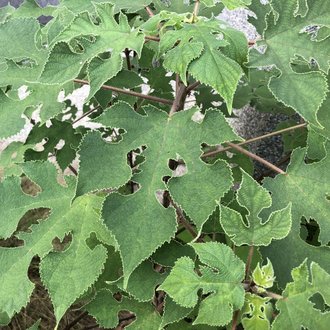 ↑Summary
A fast-growing tree native to Asia, this species has been introduced to North America where it grows primarily as a weedy tree in urban areas. It was historically introduced throughout southeast Asia and Oceania by the Austronesian people, but many of these populations went extinct when the tree stopped being used.
| | |
| --- | --- |
| Legend | Color |
| Introduced | |
| Introduced or Not Present | |
This tentative map is based on our own research. It may have limited data on Canada and/or Mexico, and there is some subjectivity in our assignment of plants as introduced vs. expanded. Read more in this blog post.
↑Description & Identification
Irregularly lobed leaves, reminiscent of the Morus genus.

Unusual for plants, can exhibit both alternate and opposite leaf arrangement, sometimes on the same plant.
↑Habitat
Prefers sunny, exposed sites. Tolerates a wide range of climate conditions and soil types, including heat, humidity, drought, and poor soils. Also tolerates pollution and urban conditions.

In North America, predominately found in urban areas, along roads and railroads, forest gaps and edges, and open woodlands on disturbed or degraded sites.
↑Uses
Historically, this plant was used primarily to produce barkcloth.

Later, it became important in pulp for paper production.

The fruits are edible and sweet, but bruises easily and has relatively little flesh. Its flavor is more appealing than its texture.
↑Related Plants
Although called a "Mulberry", and in the same family with true mulberries (Morus sp.), this species may be more closely related to other plants of this family, such as the Osage-Orange (Maclura pomifera).
↑Links & External Resources
• Broussonetia papyrifera (Paper Mulberry) | USDA PLANTS Database (About This Site)
• Broussonetia papyrifera | Go Botany (About This Site)
• Broussonetia papyrifera (Paper Mulberry) | Missouri Botanical Garden Plant Finder (About This Site)
• Paper Mulberry | Virginia Tech Dendrology Factsheets (About This Site)
• Broussonetia papyrifera (paper mulberry) | CABI Invasive Species Compendium (About This Site)
• Broussonetia papyrifera | Biota of North America Project (BONAP) (About This Site)
• Broussonetia papyrifera | NatureServe Explorer (About This Site)
• Broussonetia papyrifera | Flora of North America (About This Site)
• Paper Mulberry | Maryland Biodiversity Project (About This Site)
↑Photo gallery