Home
»
Plants
»
Ilex aquifolium
European Holly (Ilex aquifolium
L.

)

Also known as English Holly.

Page contents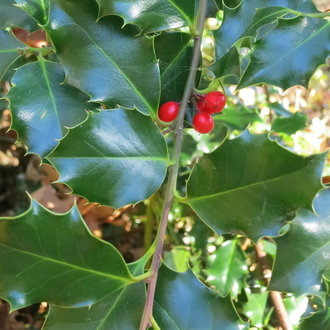 ↑Summary
An evergreen tree native to Europe, widely established on the west coast of North America, where it can be invasive, and established on a few sites in the east as well.
| | |
| --- | --- |
| Legend | Color |
| Introduced | |
| Introduced or Not Present | |
This tentative map is based on our own research. It may have limited data on Canada and/or Mexico, and there is some subjectivity in our assignment of plants as introduced vs. expanded. Read more in this blog post.
↑Similar Plants
↑Habitat
In its native range in Europe, found both as an understory in forests in parts of Europe with higher rainfall, and in scrublands of the Mediterranean.

On the West Coast, found mostly in forests where it grows as an understory plant.

In Massachussets, where it is also established, mostly found in anthropogenic habitats, also found in forests and margins of swamps and other wetlands.
↑Uses
In North America, widely used in landscaping, where it is valued for its glossy foliage and bright red berries. It is often used in making holiday wreaths.

However, it is not a good choice of landscaping plant anywhere in North America because, on the west coast, it can become invasive, whereas in the east and interior of the country, it is poorly-suited to extremes of temperature, including both winter cold and summer heat.
↑Links & External Resources
• Ilex aquifolium (English holly) | USDA PLANTS Database (About This Site)
• Ilex aquifolium | Go Botany (About This Site)
• European Holly | iNaturalist (About This Site)
• Ilex aquifolium (English Holly) | Missouri Botanical Garden Plant Finder (About This Site)
• Ilex aquifolium | Biota of North America Project (BONAP) (About This Site)
↑Photo gallery