Home
»
Plants
»
Arctium minus
Lesser Burdock (Arctium minus
Bernh.

)

Also known as common burdock, little burdock.

Page contents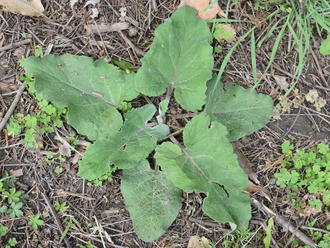 ↑Summary
A large biennial plant native to Europe, and widely introduced in North America.
| | |
| --- | --- |
| Legend | Color |
| Introduced | |
| Introduced or Not Present | |
This tentative map is based on our own research. It may have limited data on Canada and/or Mexico, and there is some subjectivity in our assignment of plants as introduced vs. expanded. Read more in this blog post.
↑Habitat
Found mostly in areas with average to moist conditions and nutrient-rich soil, in full to partial sun. Prefers disturbance to allow germination and survival of seedlings.

Found in agricultural areas, along roadsides, railroads, woodland borders, and waste ground.
↑Life Cycle
A biennial, the seeds of lesser burdock begin sprouting in spring, but also germinate opportunistically throughout the growing season, whenever favorable conditions exist. Seedlings require exposed conditions with significant direct sunlight.

Establishes a basal rosette of leaves, which grows through the first season. Once established, competes aggressively with other vegetation; the huge, thick leaves often block out any sunlight from reaching the ground under them. First-year leaves often persist through the winter, especially in milder winters.

In the second year, growth begins early in spring, with the basal rosette initially growing larger. Bolts and grows upright in late spring. Second-year plants are often vigorous and able to compete favorably against other vegetation. Blooms mid summer to early fall, with seeds maturing in fall. Plants die after the seeds mature.

Seeds have hooks and are dispersed by sticking to animal fur and clothing. Many seeds fall close to the parent plant, allowing this species to persist where conditions are favorable for it.
↑Uses
This plant was originally used for food, and is still occasionally eaten. The root is edible and tastes mild, and the stems were also eaten once the bitter outer coating is peeled away.

The plant also has medicinal uses.
↑Related Plants
Four Arctium species are found throughout North America; all are introduced. This one is by far the most common and widespread. The second most widespread is greater burdock (Arctium lappa).

This species is closely related to both A. lappa and A. tomentosum and is able to hybridize with both.

The broader Cynareae tribe contains both native and introduced plants, among them, Cirsium sp. or thistles.
↑Links & External Resources
• Arctium minus (Common Burdock) | Illinois Wildflowers (About This Site)
• Arctium minus (Lesser Burdock) | USDA PLANTS Database (About This Site)
• Arctium minus | Go Botany (About This Site)
• Lesser Burdock | iNaturalist (About This Site)
• Arctium minus | Biota of North America Project (BONAP) (About This Site)
• Arctium minus | NatureServe Explorer (About This Site)
• Arctium minus | Flora of North America (About This Site)
• Arctium minus | Missouri Plants (About This Site)
• Lesser Burdock | Maryland Biodiversity Project (About This Site)
• Arctium minus (Common Burdock) | Minnesota Wildflowers (About This Site)
↑Photo gallery