Home
»
Plants
»
Persicaria longiseta
Oriental Lady's Thumb (Persicaria longiseta )
Also known as low smartweed; also classified as Polygonum cespitosum.
Page contents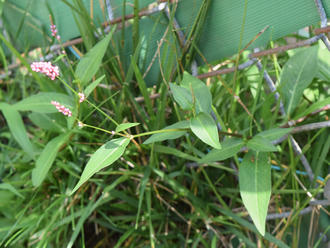 ↑Summary
An annual native to east Asia, widely introduced in North America where it is common in suburban gardens and disturbed urban habitats, and occasional in more intact wild ecosystems.
| | |
| --- | --- |
| Legend | Color |
| Introduced | |
| Introduced or Not Present | |
This tentative map is based on our own research. It may have limited data on Canada and/or Mexico, and there is some subjectivity in our assignment of plants as introduced vs. expanded. Read more in this blog post.
↑Photo gallery