Home
»
Plants
»
Asclepias purpurascens
Purple Milkweed (Asclepias purpurascens
L.

)

Page contents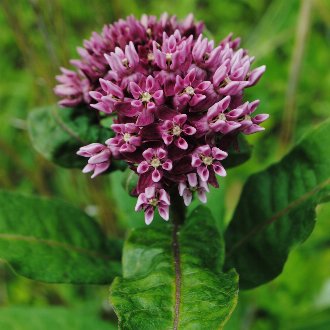 ↑Summary
A showy perennial, native from the central U.S. through the northeast, but locally uncommon and endangered in parts of its range. Often found in oak savannas and dry oak forests.
| | |
| --- | --- |
| Legend | Color |
| Native | |
| Native or Not Present | |
This tentative map is based on our own research. It may have limited data on Canada and/or Mexico, and there is some subjectivity in our assignment of plants as introduced vs. expanded. Read more in this blog post.
↑Similar Plants
↑Habitat
Found primarily in on sandy soils, savannas and oak or oak-hickory forests. Found in a wide range of moisture conditions, but usually in dry, well-drained conditions, only occasionally in wet conditions. On drier sites, limited to areas with some shade. Found in open woods, ridges, streambanks, wet meadows, thickets, and along roadsides. Has high nutrient requirements. Usually limited to high-quality, intact natural areas where the only disturbances are natural ones such as fire.

In parts of its range, considered an indicator species of oak-hickory savanna (source); these savannas, maintained by fire, were once widespread across eastern North America, but fire suppression following European settlement mostly eliminated these ecosystems, probably greatly reducing the habitat for this species and others dependent on these ecosystems.
↑Uses
Uncommonly cultivated; although it is showy, it is notoriously difficult to grow in gardens, and it usually takes 3-4 years before it blooms. On suitable sites, it can be a good choice as it is less aggressive than common milkweed.
↑Links & External Resources
• Asclepias purpurascens (Purple Milkweed) | Illinois Wildflowers (About This Site)
• Asclepias purpurascens (Purple Milkweed) | USDA PLANTS Database (About This Site)
• Asclepias purpurascens | Go Botany (About This Site)
• Asclepias purpurascens (Purple Milkweed) | Missouri Botanical Garden Plant Finder (About This Site)
• Asclepias purpurascens | Biota of North America Project (BONAP) (About This Site)
• Asclepias purpurascens | NatureServe Explorer (About This Site)
• Asclepias purpurascens | Missouri Plants (About This Site)
• Purple Milkweed | Maryland Biodiversity Project (About This Site)
• Asclepias purpurascens (Purple Milkweed) | Minnesota Wildflowers (About This Site)
↑Photo gallery