Home
»
Plants
»
Erigeron quercifolius
Oakleaf Fleabane (Erigeron quercifolius
Lam.

)

Page contents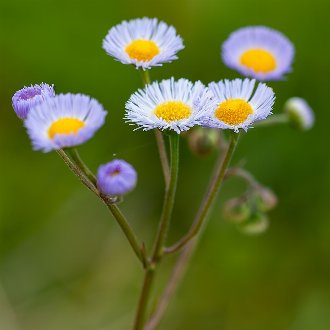 ↑Summary
An annual, biennial, or short-lived perennial native to sandy sites in Florida and nearby portions of the Atlantic and Gulf coasts.
↑Similar Plants
↑Habitat
Found primarily on moist, sandy sites in the southeastern coastal plain, through all of Florida, north to the border with Virginia, and West through the Florida panhandle. Natural habitats include open pine flatwoods, open hammocks, cypress-gum swamps. Also frequently found in anthropogenic habitats including along roadsides, especially in ditches, in agricultural fields, vacant lots, and lawns and gardens.

This species is restricted to the coastal plain. It is usually found on sandy soils, to loamy sand in texture, but also sometimes found on peaty soils or shell rock. It is usually restricted to sites that have experienced recent vegetation-clearing disturbances.
↑Links & External Resources
• Erigeron quercifolius (oakleaf fleabane) | USDA PLANTS Database (About This Site)
• Erigeron quercifolius | Biota of North America Project (BONAP) (About This Site)
• Erigeron quercifolius Lam. | Plants of the World Online (POWO) (About This Site)
• Erigeron quercifolius | NatureServe Explorer (About This Site)
• Erigeron quercifolius | Flora of North America (About This Site)
↑Photo gallery