Home
»
Plants
»
Erigeron pulchellus
Robin's Plantain (Erigeron pulchellus
Michx.

)

Page contents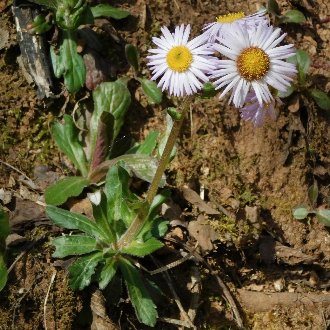 ↑Summary
A perennial favoring slightly dry sites of low soil fertility in open woodlands.
| | |
| --- | --- |
| Legend | Color |
| Native | |
| Native or Not Present | |
This tentative map is based on our own research. It may have limited data on Canada and/or Mexico, and there is some subjectivity in our assignment of plants as introduced vs. expanded. Read more in this blog post.
↑Similar Plants
↑Habitat
Found in a variety of open woodland habitats, including open rocky woodlands, partly-wooded bluffs, sand dunes, savannas, streambanks, and woodland clearings. Usually limited to undisturbed sites where the open nature of the habitat persists long-term due to soil conditions.

Found in mesic to dry conditions in a variety of soil types, including clay-loam, rocky soils, and sand, but usually limited to sites where rocks, sand, or otherwise infertile soils limit the growth of competing ground-level vegetation. Often prefers growing on slopes.

Less tolerant of disturbance, poor drainage, full sun, and competition from ground-level vegetation than other Erigeron species.
↑Uses
This species is occasionally cultivated in gardens, and is generally considered the most desireable of the four eastern Erigeron species. It is valued for its showy flowers, low maximum height, and more persistent nature relative to other fleabanes which can be short-lived and unpredictable but also more weedy. It is generally easy to grow in garden and tolerates light shade, drought, and a wide variety of soil conditions but it demands good drainage.
↑Links & External Resources
• Erigeron pulchellus (Robin's Plantain) | Illinois Wildflowers (About This Site)
• Erigeron pulchellus (robin's plantain) | USDA PLANTS Database (About This Site)
• Erigeron pulchellus | Go Botany (About This Site)
• Erigeron pulchellus (Robin's Plantain) | Missouri Botanical Garden Plant Finder (About This Site)
• Erigeron pulchellus | Biota of North America Project (BONAP) (About This Site)
↑Photo gallery