Home
»
Plants
»
Symphyotrichum lanceolatum
White Panicle Aster (Symphyotrichum lanceolatum
(Willd.) G.L. Nesom

)

Also known as panicled aster.

Page contents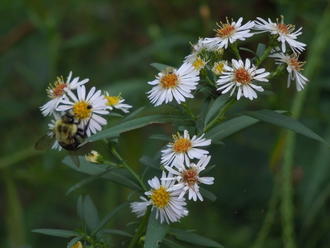 ↑Summary
A tall, perennial aster of moist, partly-sunny areas. Native to a wide range in North America, coast to coast; common and abundant in much of the northeast and midwest. Often forms large vegetative colonies.
| | |
| --- | --- |
| Legend | Color |
| Native | |
| Native or Not Present | |
This tentative map is based on our own research. It may have limited data on Canada and/or Mexico, and there is some subjectivity in our assignment of plants as introduced vs. expanded. Read more in this blog post.
↑Photo gallery