Home
»
Plants
»
Impatiens capensis
Jewelweed (Impatiens capensis
Meerb.

)

Also known as spotted touch-me-not.

Page contents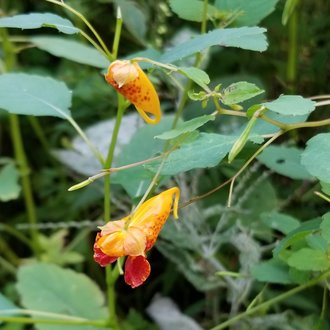 ↑Summary
An annual of wet areas, native to North America.
| | |
| --- | --- |
| Legend | Color |
| Native | |
| Introduced | |
| Native or Not Present | |
| Introduced or Not Present | |
| Native or Introduced | |
This tentative map is based on our own research. It may have limited data on Canada and/or Mexico, and there is some subjectivity in our assignment of plants as introduced vs. expanded. Read more in this blog post.
↑Similar Plants
↑Habitat
Found in moist to wet conditions in light shade to partial sun. Occurs in moist, open areas in woodlands, floodplains, and partly-shaded areas of wetlands, seeps and ditches along roadsides. Common in much of its range. Tolerates prolonged flooding and often grows in shallow standing water, but can grow on moist ground as well.
↑Life Cycle
Germinates mid to late spring into early summer, and starts growing upright as soon as it sprouts. Begins blooming mid-summer and often continues to bloom. Rather than blooming all at once, this plant opens a few flowers at once, and then starts producing seeds incrementally while opening new flowers. If warm conditions persist longer in autumn, it will continue flowering and producing seeds longer.

Seeds are spring-loaded and are ejected mechanically from seed pods when ripe.

Plants are killed by frost and this species productivity is thus sensitive to early frost.

All stages of this plant are sensitive to moisture conditions. In a dry year, plants on drier ground will die and only those in wetlands or the wettest conditions will survive to maturity. In a consistently wet year, this plant will be able to survive on slightly drier ground.
↑Faunal Associations
Flowers attract both bees and hummingbirds. The seeds are eaten by larger birds.
↑Related Plants
Much of its range overlaps with Pale Touch-me-not (Impatiens pallida), which is less common but able to grow on slightly drier ground.
↑Links & External Resources
• Impatiens capensis (Orange Jewelweed) | Illinois Wildflowers (About This Site)
• Impatiens capensis (Jewelweed) | USDA PLANTS Database (About This Site)
• Impatiens capensis | Go Botany (About This Site)
• Impatiens capensis (Jewelweed) | Missouri Botanical Garden Plant Finder (About This Site)
• Impatiens capensis | Biota of North America Project (BONAP) (About This Site)
↑Photo gallery