Home
»
Plants
»
Microstegium vimineum
Japanese Stiltgrass (Microstegium vimineum)
Also known as Nepalese browntop, packing grass, Japanese stilt grass.
Page contents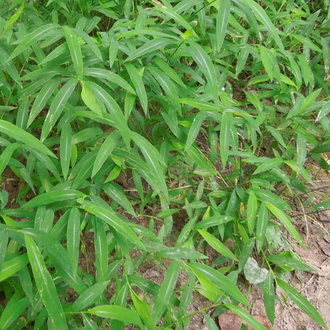 ↑Summary
A shallow-rooted annual grass native to south and east Asia, and introduced to North America, mostly in the Mid-atlantic states and south along the Applachians, where it is widely considered an invasive species due to its formation of large monocultures and shutting out of many native plant species.
↑Habitat
Prefers light shade and moist conditions, and rich, loamy soil, but tolerates a wide range of conditions.

Mostly found in open forests, woodland borders and along paths, especially in floodplains and bottomland woodlands. Often forms large monocultures, shutting out other vegetation. Also found in suburban gardens.
↑Life Cycle
This species is an annual whose seeds sprout relatively late in the spring. Most growth is mainly during the warm months.

Branches frequently and roots at nodes, often forming mats or colonies from a single plant. This plant will push up through competing vegetation, growing significantly taller in the presence of competition than on more exposed sites, where it often sprawls out horizontally.

Starts blooming in early fall, sets seed, and dies.
↑Links & External Resources
• Nepalese Browntop | Fire Effects Information System (FEIS) (About This Site)
• Microstegium vimineum (Japanese Stiltgrass) | Illinois Wildflowers (About This Site)
• Microstegium vimineum (Japanese Stiltgrass) | USDA PLANTS Database (About This Site)
• Microstegium vimineum | Go Botany (About This Site)
• Microstegium vimineum (Nepalese browntop) | CABI Invasive Species Compendium (About This Site)
• Microstegium vimineum | Biota of North America Project (BONAP) (About This Site)
↑Photo gallery