Home
»
Plants
»
Daucus carota
Queen Anne's lace (Daucus carota
L.

)

Also known as wild carrot.

Page contents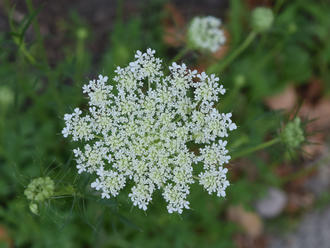 ↑Summary
Native to Europe and southwest Asia, and introduced in North America and other regions.
↑Habitat
In North America, most common in anthropogenic habitats. Found in meadows, fallow fields, pastures, roadsides and railroads, vacant lots and industrial areas.
↑Uses
This species is widely cultivated as a food plant. Cultivated carrots havee been selected to have rather different characteristics from the wild plants, including larger, sweeter roots which are usually orange in color but can also be yellow, reddish, dark purple, or white like wild-type plants.

Although usually cultivated for its root, the stems and leaves are also edible. Wild plants are more likely to cause photosensitivity than cultivated plants.

Sometimes grown for its flower, or used in gardening as a companion plant.
↑Links & External Resources
• Daucus carota (Wild Carrot) | Illinois Wildflowers (About This Site)
• Daucus carota (Queen Anne's lace) | USDA PLANTS Database (About This Site)
• Daucus carota | Go Botany (About This Site)
• Daucus carota (carrot) | CABI Invasive Species Compendium (About This Site)
• Daucus carota | Biota of North America Project (BONAP) (About This Site)
↑Photo gallery