Home
»
Plants
»
Parietaria pensylvanica
Pennsylvania Pellitory (Parietaria pensylvanica
Muhl. ex Willd.

)

Page contents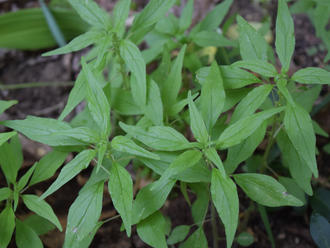 ↑Summary
A small, wind-pollinated annual plant that often goes unnoticed. Commonly found growing out of stone walls. Native to a wide range in North America.
| | |
| --- | --- |
| Legend | Color |
| Native | |
| Extirpated | |
| Native or Not Present | |
This tentative map is based on our own research. It may have limited data on Canada and/or Mexico, and there is some subjectivity in our assignment of plants as introduced vs. expanded. Read more in this blog post.
↑Habitat
Found in a variety of shaded habitats, including both natural and anthropogenic habitats. Natural habitats include deciduous woodlands, thickets, ridges, ledges, cliff bases, talus slopes, and calcareous glade. Tolerates rocky soil and rocky areas with little soil; primarily found on neutral to basic soils. In New England, also found near coastal beaches.

Also found growing out of stone walls, along buildings, in gardens, in the shade of landscaping trees, under hedges, and in edge habitat created by humans.
↑Life Cycle
A strict summer annual, this plant establishes itself from seeds germinating in the spring.

Usually flowers during the summer, but sometimes as early as late spring or as late as fall. Bloom period usually lasts 2-3 months; flowers are wind-pollinated.

Seeds are produced in fall, after which the plant dies.
↑Faunal Associations
According to the Illinois Wildflowers website, Parietaria pensylvanica is eaten by the caterpillars of the red admiral, the seeds are eaten by Lincon's sparrow during migration, and there is indirect evidence that the foliage is browsed by white-tailed deer.
↑Related Plants
Parietaria pensylvanica is the only Parietaria species in most of North America, but there are three native species (P. floridana, P. hespera, and P. praetermissa) with limited distribution. Two introduced species, P. judaica and P. officinalis, have established populations in a few areas.

There are numerous other species, both native and introduced, in the Urticaceae (Nettle) family, in this plant's range. In most areas, these are this plant's closest relatives.
↑Links & External Resources
• Parietaria pensylvanica (Pennyslvania Pellitory) | Illinois Wildflowers (About This Site)
• Parietaria pensylvanica (Pennsylvania Pellitory) | USDA PLANTS Database (About This Site)
• Parietaria pensylvanica | Go Botany (About This Site)
• Parietaria pensylvanica | CABI Invasive Species Compendium (About This Site)
• Parietaria pensylvanica | Biota of North America Project (BONAP) (About This Site)
↑Photo gallery