Home
»
Plants
»
Symphyotrichum novae-angliae
New England Aster (Symphyotrichum novae-angliae
(L.) G.L. Nesom

)

Page contents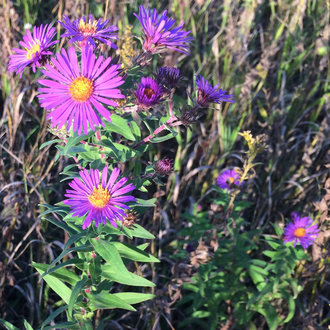 | | |
| --- | --- |
| Legend | Color |
| Native | |
| Introduced | |
| Native or Not Present | |
| Introduced or Not Present | |
| Native or Introduced or Not Present | |
This tentative map is based on our own research. It may have limited data on Canada and/or Mexico, and there is some subjectivity in our assignment of plants as introduced vs. expanded. Read more in this blog post.
↑Description & Identification
Perennial with a clumping habit, stems up to 2m tall, usually. Stems and leaves hairy; leaf bases conspicuously clasp stem. Composite flowers with yellow centers and (usually) purple or purplish rays. Extensive variation in ray color from pale pink to lavender to deep purple.
↑Habitat
Found in open habitats and borders, including moist to mesic prairies and meadows, and sunny edges along bodies of water, roads, or railroads. Grows in average to moist conditions, in soil good at retaining water, with textures ranging from loamy to clay. Often more frequent on calcareous soils.

Found in both natural habitats and degraded anthropogenic habitats.
↑Life Cycle
Seedlings germinate in spring, after a period of cold dormancy.

Plants usually only reach a fraction of their mature height during the first year, often only a few feet tall, and usually producing only one stem. These plants usually flower, but only produce a small number of blooms.

With subsequent years, the plant grows taller and grows more stems. Short rhizomes rarely travel more than a few inches from the parent plant, creating a clumping growth habit. Tall stems initially grow straight, but often do not support their own weight; they will grow upright if supported by other plants, but will often flop over in late summer if grown in an exposed area, or sooner if high-moisture conditions leads to rapid, heavier growth.

In wet conditions, this plant can retain nearly all its leaves throughout the season, but in drier conditions it loses most of its lower leaves by the time of flowering.

Seeds are wind-dispersed. Only a small portion of seeds are viable, but viable seeds can persist in the seed bank for several years.
↑Uses
New England Aster is sometimes cultivated in gardens. Some cultivars exist, including both those taken from wild populations and not appreciably different, and those bred to have compact growth habits unlike those in wild populations.
↑Related Plants
This aster co-occurs with numerous other species of the Symphyotrichum genus. A 2012 analysis concluded that the most likely closest relatives were scaleleaf aster (Symphyotrichum adnatum), aromatic aster (Symphyotrichum oblongifolium), and late purple aster (Symphyotrichum patens). eastern silver aster (Symphyotrichum concolor), white heath aster (Symphyotrichum ericoides), and barrens silky aster (Symphyotrichum pratense) are also likely closely related.
↑Links & External Resources
• Symphyotrichum novae-angliae (New England Aster) | Illinois Wildflowers (About This Site)
• Symphyotrichum novae-angliae (New England Aster) | USDA PLANTS Database (About This Site)
• Symphyotrichum novae-angliae | Go Botany (About This Site)
• Symphyotrichum novae-angliae (New England Aster) | Missouri Botanical Garden Plant Finder (About This Site)
• Symphyotrichum novae-angliae | CABI Invasive Species Compendium (About This Site)
• Symphyotrichum novae-angliae | Biota of North America Project (BONAP) (About This Site)
↑Photo gallery