Home
»
Plants
»
Geranium carolinianum
Carolina geranium (Geranium carolinianum
L.

)

Also known as Carolina crane's-bill.

Page contents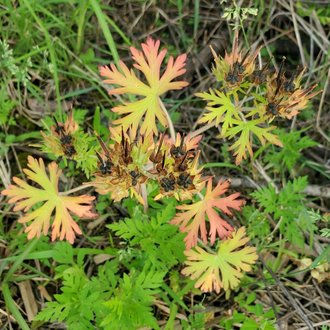 ↑Summary
An annual plant native to North America, with a wide range across the continent, common in much of the central U.S., southeast, and east coast.
| | |
| --- | --- |
| Legend | Color |
| Native | |
| Native or Not Present | |
| Native or Expanded | |
| Native or Expanded or Not Present | |
This tentative map is based on our own research. It may have limited data on Canada and/or Mexico, and there is some subjectivity in our assignment of plants as introduced vs. expanded. Read more in this blog post.
↑Habitat
Found in a range of open conditions, from full to partial sun. Occasionally found in open areas of woodlands, dry upland portions of clay or gravel prairies, limestone barrens, as well as numerous anthropogenic habitats including pastureland, fallow and abandoned fields, roadsides and railroad tracks, and industrial and other waste areas. Also occurs on areas that have recently burned.

Able to survive in a wide range of soil types, but usually limited to harsher sites where there is less competition from other plants, such as gravely or sandy soil, or hard clay or compacted soils. Also tolerates alkaline soils.
↑Life Cycle
This plant is a summer annual and is usually short-lived, often completing its life-cycle during a small portion of the growing season.
↑Related Plants
There are numerous Geranium species in North America, including both native and introduced species. Of all these, G. carolinianum has the widest range.
↑Links & External Resources
• Geranium carolinianum (Carolina Cranesbill) | Illinois Wildflowers (About This Site)
• Geranium carolinianum (Carolina geranium) | USDA PLANTS Database (About This Site)
• Geranium carolinianum | Go Botany (About This Site)
• Geranium carolinianum | Biota of North America Project (BONAP) (About This Site)
• Geranium carolinianum | NatureServe Explorer (About This Site)
• Geranium carolinianum | Missouri Plants (About This Site)
• Carolina Cranesbill | Maryland Biodiversity Project (About This Site)
• Geranium carolinianum (Carolina Cranesbill) | Minnesota Wildflowers (About This Site)
↑Photo gallery