Home
»
Plants
»
Geum laciniatum
Rough Avens (Geum laciniatum
Murray

)

Page contents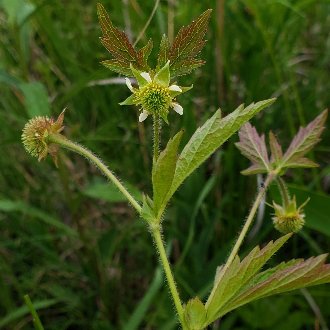 | | |
| --- | --- |
| Legend | Color |
| Native | |
| Native or Not Present | |
This tentative map is based on our own research. It may have limited data on Canada and/or Mexico, and there is some subjectivity in our assignment of plants as introduced vs. expanded. Read more in this blog post.
↑Similar Plants
↑Habitat
Found in a variety of wet habitats, including moist meadows and prairies, floodplains, thickets, forest edges, marshes, shores of lakes and rivers, and locally-moist sites in savannas. Occasionally found in anthropogenic habitats including along roadsides and railroads and in abandoned fields.

Prefers part sun but tolerates from full sun to light shade. Prefers moist to mesic conditions, in soils that are loamy to sandy-loam. Prefers some level of disturbance, more in the north of its range.

In the southeast of its range, it is rare and restricted to fens and wet meadows on calcareous or mafic soils, mostly at higher elevations. In the western parts of its range it is also more restricted to wetlands. In the north of its range it becomes more common and widespread, and ventures more into anthropogenic habitats, but it usually still only occurs as scattered individuals.
↑Links & External Resources
• Geum laciniatum (Rough Avens) | Illinois Wildflowers (About This Site)
• Geum laciniatum (rough avens) | USDA PLANTS Database (About This Site)
• Geum laciniatum | Go Botany (About This Site)
• Rough Avens | iNaturalist (About This Site)
• Geum laciniatum | Biota of North America Project (BONAP) (About This Site)
↑Photo gallery