Home » Regions » North America » Mediterranean California
Mediterranean California
Page contents
To check where a specific point lies, you can look it up in our Ecoregion Locator.
↑Map Legend & Subregion List
This list will help you navigate the regions in case you have problems with viewing or clicking the interactive map above.
† Status: ✓ = Complete ○ = Needs Image … = Incomplete ∅ = Stub Only
↑Progress
| | | |
| --- | --- | --- |
| Partially Complete | With Images | Complete w/ Images |
Get involved! You can help our ecoregion articles progress faster. Help us find photos of these regions. Contact us if you have any additions or corrections to any of these articles. You can also donate to support our ongoing work.
↑About the Mediterranean California
This ecoregion is named for having a similar climate to the region around the Mediterranean sea in Europe. It is semi-arid, with wetter winters and drier summers. Much of this region would naturally be covered by chaparral, a dense, low growth of mostly evergreen shrubs. Taller, but somewhat open forests occur as one reaches higher altitudes, as well as in moist, sheltered areas along rivers and a few isolated coastal areas. Both deciduous and coniferous forests occur here. The region also includes some grasslands.
There is considerable local variability in climate, which explains the diversity of vegetation cover types. In coastal areas to the south of this region, the summers are devoid of rainfall, but the effect of low rainfall on vegetation is mitigated somewhat by cool, humid air from the ocean, as well as a weather pattern that produces a consistently cloudy May and June over parts of the region. Lower-altitude coastal areas are protected from cold as well as hot temperatures year-round, but the temperature swings become more extreme as one travels to higher altitudes and inland.
This area is high in biodiversity; although the lack of moisture limits biodiversity and the extent of the ecosystems, the mild temperatures allow many tropical species to survive here. The region is also heavily threatened by development, as it is home to three of the largest 20 urban areas in the U.S., including the San Francisco Bay Area, Los Angeles, and San Diego, and most of the urban development centers in the milder coastal regions.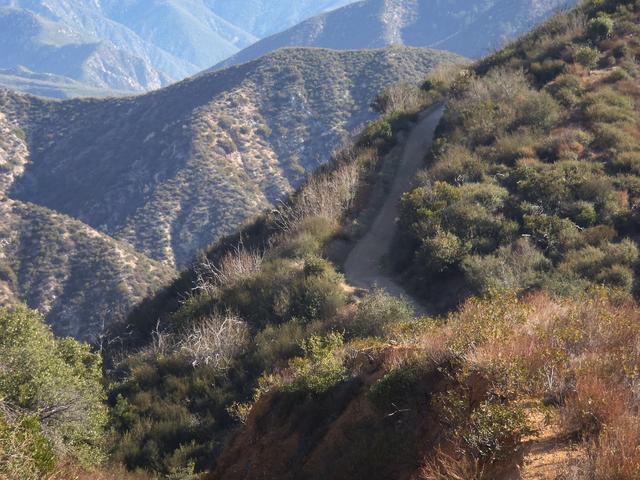 The semiarid region of Mediterranean California is mostly characterized by chaparral, shrubby growth like pictured here. Much of the area is covered with mountains with steep topography. This photo is taken in January, during the wet season. Photo © Brian Altmeyer,
CC BY 2.0