Home » Regions » North America » Eastern Temperate Forests » Mixed Wood Plains » Eastern Great Lakes Lowlands » Erie/Ontario Lake Plain
Erie/Ontario Lake Plain
Page contents
↑About the Erie/Ontario Lake Plain
The
Erie / Ontario Lake Plain
is a narrow region stretching along the southeastern shore of Lake Erie and the southern shore of Lake Ontario. It is wider along lake Ontario, owing to that lake's lack of freezing which causes its moderating effect on climate to be stronger than that of lake Erie.
Much of this region is nearly completely flat. However, there are some beach ridges and coastal cliffs, especially in Ohio, that are prone to slumping. Soils are formed on wave-washed glacial till and lake and beach deposits. Shale bedrock is deep beneath the surface in most places.
The region has a lake-moderated continental climate. The growing season here averages 194 days, much longer than surrounding areas. Seasons are delayed, with fall temperatures staying warmer and freezing delayed, but spring also coming later. Cloudiness is high year-round. The climate around Lake Erie is somewhat distinct from that around Lake Ontario, owing to Lake Ontario's greater depth. Erie typically freezes in winter, after which the weather becomes colder and clearer. The portion of this region near Lake Ontario is farther north and thus cooler on average, but this region does not experience a period of the adjacent lake being frozen, and thus the coldest temperatures can be moderated more. There is also much greater lake effect snow closer to Lake Ontario, whereas along Lake Erie lake effect snow is concentrated in late winter / early spring and late fall / early winter, when the lake is not frozen.
Original forest cover was mostly mixed mesophytic forest in the narrow area along Ohio's shoreline, with some mixed oak forest on sandy sites, and some beech and elm-ash swamp forest on wetter sites. In the northeast of this region, beech-maple forest was dominant, with
American beech (Fagus grandifolia)
and
sugar maple (Acer saccharum)
, and some
American chestnut (Castanea dentata)
growing on more gravely sites. Unique plant communities also existed along lakefront dunes, some of which is preserved in Presque Isle near Erie, PA. These plant communities contain many species at the edges of their ranges.
The unique climate here has made this region attractive for agriculture, with distinctive crops grown here from the areas even a few miles inland. Grapes are a dominant crop, and asparagus and other vegetables, as well as various fruits including peaches, apples, cherries, and strawberries are also grown here. There is also significant urbanization and industry, with the largest cities being Cleveland, OH, Erie, PA, and Buffalo and Rochester, NY. The metropolitan areas of these cities, including both industry and suburbanization, have stretched out more along the shorefront than inland, as the proximity to shipping was historically important, and the moderate climate and shorefront property makes the area more attractive for suburbanization. There is more intact forest farthest from the major urban areas.
Along Lake Erie, this area is bordered inland along most of its length by various regions of the Erie Drift Plain, mostly the
Low Lime Drift Plain
, but also the
Mosquito Creek/Pymatuning Lowlands
along a small stretch, except at a small area at the far east end of Lake Erie where it is bordered by the
Cattaraugus Hills
, and a small area at the far west, where it borders the
Clayey High Lime Till Plains
. Along Lake Ontario, it is bordered inland by the
Ontario Lowlands
. Along the Lake Erie shoreline to the west, this region borders the
Marblehead Drift/Limestone Plain
.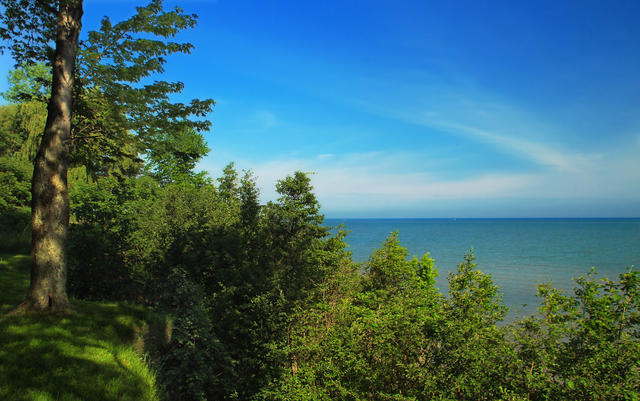 This photo shows the Lake Erie shore in the David M. Roderick Wildlife Reserve, Erie County, PA; this reserve has the largest preserved stretch of shoreline along the southern shore of Lake Erie. Photo © Nicholas A. Tonelli,
CC BY 2.0
.
Plant Lists & In-Region Search
We do not yet have data to generate plant lists for a region as fine-tuned as this one. However you can move up to the broader Eastern Great Lakes Lowlands and generate lists for that region: native plants or all plants. Or search that region's plants here:
↑References
1. Bryce, S.A., Griffith, G.E., Omernik, J.M., Edinger, G., Indrick, S., Vargas, O., and Carlson, D. "Ecoregions of New York (Poster)", U.S. Geological Survey (2010) Web.
2. Woods, A.J, Omernik, J.M., Brown, D.D. "Level III and IV Ecoregions of Delaware, Maryland, Pennsylvania, Virginia, and West Virginia", U.S. Environmental Protection Agency: National Health and Environmental Effects Research Laboratory, Corvallis, OR (1999) Web.
3. Woods, A.J, Omernik, J.M., Brockman, C.S., Gerber, T.D., Hosteter, W.D., Azevedo, S.H. "Ecoregions of Indiana and Ohio (Poster)", US Geological Survey (1998) Web.