Home » Regions » North America » Eastern Temperate Forests » Mixed Wood Plains » Erie Drift Plain » Mosquito Creek/Pymatuning Lowlands
Mosquito Creek/Pymatuning Lowlands
Page contents
↑About the Mosquito Creek/Pymatuning Lowlands
The
Mosquito Creek/Pymatuning Lowlands
are a flat, lowland area located in the northeasternmost corner of Ohio and northwesternmost corner of Pennsylvania.
Terrain is nearly completely flat in some areas, and gently undulating in others. The poor drainage results from a combination of the flat topography and poorly-drained clay soils. The region has a continental climate moderated slightly by the proximity of Lake Erie, leading to slightly warmer winters and slightly cooler, more cloudy summers.
Originally this area was a mix of forests and wetlands. Better-drained sites supported northern hardwood forests dominated by sugar maple, yellow birch, American beech, and eastern Hemlock, and beech-maple forest was found elsewhere. Wetter sites were covered with swamp forests dominated by red maple, eastern white pine, and larch or tamarack, and shrub swamps, with dominant species being buttonbush, swamp rose, poison sumac, and silky dogwood.
Dairy farming is now dominant in this region, and on well-drained soils formed from glacial outwash, there is some production of corn, potatoes, wheat, and oats. There is more intact forest cover on the more poorly-drained sites.
This region is surrounded to the east and south at a slightly higher elevation by the
Low Lime Drift Plain
. To the northwest, along Lake Erie, it borders the
Erie/Ontario Lake Plain
.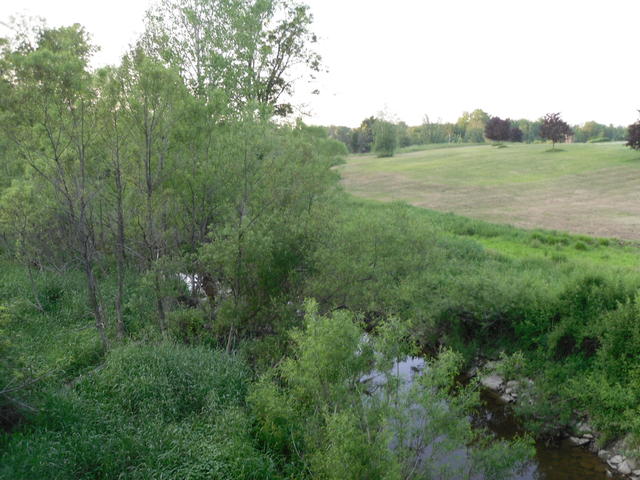 A landscape typical of this region, showing mixed land use, flat topography, and some wetlands. Photo © Doug Kerr,
CC BY-SA 2.0
.
Plant Lists & In-Region Search
We do not yet have data to generate plant lists for a region as fine-tuned as this one. However you can move up to the broader Erie Drift Plain and generate lists for that region: native plants or all plants. Or search that region's plants here:
↑References
1. Woods, A.J, Omernik, J.M., Brown, D.D. "Level III and IV Ecoregions of Delaware, Maryland, Pennsylvania, Virginia, and West Virginia", U.S. Environmental Protection Agency: National Health and Environmental Effects Research Laboratory, Corvallis, OR (1999) Web.
2. Woods, A.J, Omernik, J.M., Brockman, C.S., Gerber, T.D., Hosteter, W.D., Azevedo, S.H. "Ecoregions of Indiana and Ohio (Poster)", US Geological Survey (1998) Web.