Home » Regions » North America » Eastern Temperate Forests » Mixed Wood Plains » Eastern Great Lakes Lowlands » Champlain Lowlands
Champlain Lowlands
Page contents
↑About the Champlain Lowlands
The
Champlain Lowlands
are a region, mostly oriented north-south, stretching from northeastern New York State and northwestern Vermont, into Quebec. This region surrounds Lake Champlain, the surrounding plain of glacial lake deposits, and nearby lowlands up to about 1,000 feet in elevation.
Following the retreat of glaciers at the end of the last glacial period, this region had been depressed below sea level by the weight of glaciers, and became flooded with seawater, in an open sea connected to the ocean in the northeast, called the
Champlain Sea
. The rock gradually rebounded, after which point the water drained and more of this region surfaced as dry land again; what remains of this body of water became present-day Lake Champlain. At the height of this sea's extent, it reached ground that is now 600 feet above sea level; the areas below this elevation are thus covered in lake deposits, including sand, silt, and clay. At higher elevations, the ground is covered with glacial till, creating more rolling topography.
The region has a humid continental climate; the presence of the lake moderates the climate somewhat, although winters are still quite cold. This region has significantly lower precipitation than similar nearby regions due to rain shadow from the Adirondacks, and is the driest region of Vermont and among the driest regions of New York state, although there is still sufficient moisture to support lush forest growth and support irrigation-free agriculture.
The unusual history and unique substrates in this area support plant communities unique to this region. The fact that it is surrounded by mountains but connected to other low, flat areas by corridors along river valleys, also contributes to a staggering variety of species occurring here. Overall, plant biodiversity here is exceptionally high relative to surrounding areas, and there is great diversity in forest type and dominant tree cover from site to site.
This area was naturally covered in valley clayplain forests, with
red maple (Acer rubrum)
,
American beech (Fagus grandifolia)
,
eastern hemlock (Tsuga canadensis)
,
swamp white oak (Quercus bicolor)
,
bur oak (Quercus macrocarpa)
,
white oak (Quercus alba)
, ash, and
shagbark hickory (Carya ovata)
. On sandier sites, pine-oak-heath sandplain forest was found, containing
black oak (Quercus velutina)
,
northern red oak (Quercus rubra)
,
eastern white pine (Pinus strobus)
,
pitch pine (Pinus rigida)
, and red maple. Floodplains had forests dominated by
silver maple (Acer saccharinum)
and
green ash (Fraxinus pennsylvanica)
. Hills featured more typical northern hardwood forests of American beech,
yellow birch (Betula alleghaniensis)
,
sugar maple (Acer saccharum)
, and eastern hemlock. There were also some limestone bluffs with cedar-pine forest, featuring
northern white-cedar (Thuja occidentalis)
,
red pine (Pinus resinosa)
, eastern white pine,
American hophornbeam (Ostrya virginiana)
, and eastern hemlock. Dry sites had oak forests of northern red oak, white oak, eastern white pine, and an understory of various heath scrubs. Sandstone pavement barrens featured scattered, stunted growth of
jack pine (Pinus banksiana)
interspersed among exposed bedrock. Although not dominant,
chinquapin oak (Quercus muehlenbergii)
was occasional, especially on limestone soils, reaching its northern range limit here.
This region has been heavily utilized for agriculture, and the valley clayplain forests and pine-oak-heath sandplain forests have mostly been cleared, leading many species to become locally endangered. More intact forest remains on upland sites, but on lowlands, forest cover is minimal and often exists as small, isolated forest fragments that have less value for preserving biodiversity.
This region borders many other ecoregions. Along most of its length, this region is bordered to the west by the
Eastern Adirondack Foothills
. In the north, this region is bordered to the east by the
Green Mountain Foothills
, and south of that by the
Green Mountains/Berkshire Highlands
. Towards the southern end of this region, there is a small, and rather gradual border with the
Western New England Marble Valleys
, and a more distinct border with the
Taconic Mountains
and a slightly longer border with the
Taconic Foothills
. The southernmost border of this region is with the
Hudson Valley
. In the northwest, there is a small border with the
Northern and Western Adirondack Foothills
, and north of that, the
Upper St. Lawrence Valley
. At its north end, this region opens up onto the
St. Lawrence Lowlands
.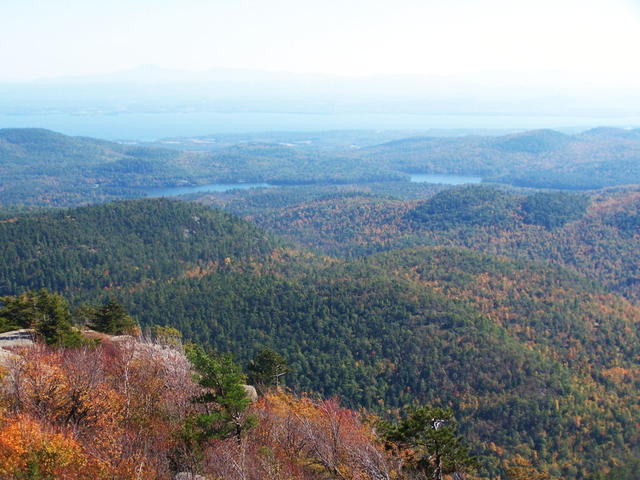 This photo, taken from New York state with Lake Champlain in the background, shows a range of different elevations that exists within this region, with barren upland areas with exposed bedrock in the foreground, through rolling hills to the flatter area around the lake in the distance. Photo © Andy Arthur,
CC BY 2.0
.
Plant Lists & In-Region Search
We do not yet have data to generate plant lists for a region as fine-tuned as this one. However you can move up to the broader Eastern Great Lakes Lowlands and generate lists for that region: native plants or all plants. Or search that region's plants here:
↑References
1. Bryce, S.A., Griffith, G.E., Omernik, J.M., Edinger, G., Indrick, S., Vargas, O., and Carlson, D. "Ecoregions of New York (Poster)", U.S. Geological Survey (2010) Web.