Home » Regions » North America » Tropical Dry Forests
Tropical Dry Forests
Page contents
To check where a specific point lies, you can look it up in our Ecoregion Locator.
↑Map Legend & Subregion List
This list will help you navigate the regions in case you have problems with viewing or clicking the interactive map above.
† Status: ✓ = Complete ○ = Needs Image … = Incomplete ∅ = Stub Only
↑Progress
| | | |
| --- | --- | --- |
| Partially Complete | With Images | Complete w/ Images |
Get involved! You can help our ecoregion articles progress faster. Help us find photos of these regions. Contact us if you have any additions or corrections to any of these articles. You can also donate to support our ongoing work.
↑About the Tropical Dry Forests
In North America, the tropical dry forest ecoregion is limited entirely to Mexico and regions south of the continental U.S., although some exist within the borders of the U.S. on the island of Puerto Rico. These forests are characterized by warm year-round temperatures (with only a mild seasonality of temperature at the far north end of this region) but a strong seasonality of rainfall. Over much of the region along the west to southern coasts of Mexico, a high pressure system that sits over the Sonoran desert and moves north in summer, combined with a monsoon pattern similar to that of South and East Asia, results in the opposite precipitation pattern from the west coast of the U.S: most rainfall falls during summer, and winters are drier.
These regions are mostly covered with broadleaf woodlands which are often deciduous as a function of rainfall, with trees going dormant during the dry seasons. Many of these forests have cacti and other drought-tolerant plants growing amongst the trees.
Due to the variation in topography and influence of orographic lift on precipitation and rain shadow in the region where these forests are most common, their distribution is irregular, with many regions of dry forest interspersed with more humid forests. Most commonly, this region transitions to
Temperate Sierras
at higher altitudes. In the transition zone between these two regions along Mexico's west coast, the dry forests are often found in valleys, separated from each other by higher-altitude regions. At its northernmost limit, this region gives way to
deserts
along the coast, and
Southern Semi-Arid Highlands
farther inland.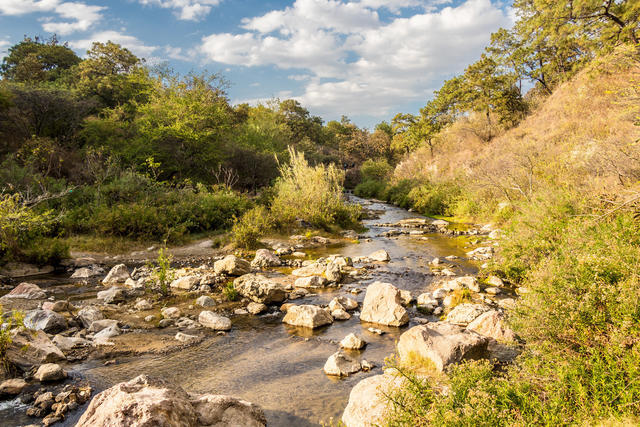 A stream in Bosque de la Primavera, Guadalajara, Jalisco, Mexico. This photo was taken in March, well into the dry season; appropriately, much of the vegetation is dormant, even close to this stream. Photo © Alejandro Hernández Osuna,
Public Domain